FAMILY ORIGINS

The Fuks (Fuchs) family was Jewish. Documents confirm that our family was Orthodox Jewish. The family was of Ashkenazic lineage. The Yiddish form of the surname would be Fox or Foks.

The earliest record for the Fuks family spelled the surname Fux and was located in Piaski Luterskie -- about 25 minutes southeast of the regional capital of Lublin, Poland. The earliest ancestor, Szymon Fuks, had two recorded sons, Judka and Icek, and a daughter, Estera. Judka Fux died in Piaski in 1838. His parents were Szymon and Jeta (Yetta). One of those testifying about the death in the record, Szaia Zylberman, age 40, a tailor (presumably living in Piaski), is listed as a relative of the Fuks family.

Judka's son, my ancestor Sanel Fuks, is listed in Swierze, Poland -- which is on the modern Poland-Ukraine border near Chelm -- in 1831. By 1834, Sanel's family had moved to Piaski. By 1836, again they were in Swierze. The family then moved to Rejowiec before 1846. Sanel Fuks' occupation is listed as a "worker". All indications are that the family was extremely poor. In some of the communities they lived in, such as Piaski, the poor and religious communities would stick together while the more modern, wealthy Reform Jews would only associate with their own kind.

Sanel Fuks' son Szymon Fuks moved to Krasnystaw, Poland before 1855. At some point one of the ancestors entered the hat-making business and several generations followed. The Fuks family was known in southeast Poland as cap-makers.

Szymon's son Szloma Fuks moved from Krasnystaw to Zamosc, Poland around 1885. The family remained in Zamosc until the outbreak of the Holocaust.

One of the daughters of Icek Fuks, Brucha, married a Dawid Fuks from Biskupice, Swidnik County, Lublin, Poland. This location is about 10 minutes from Piaski. It is a safe assumption that the Fuks relatives also were living in Biskupice.


A report on the death of Szymon (Simon) Fuks, age 20, in 1901. In Russian.
"It happened in town of Zamosc on the 20th of June in 1901 in the 10th hour of the
morning (10am). Two people showed up: Jankiel Tetkoter (sp?), 64, and Gersz
Sobol, 66, and announced that on the 19th of the current month and year in the
7th hour of the evening (7pm) passed away in the town of Zamosc, Shimon Fuks,
who was single, twenty years from birth, son of Szlema and Sura Ruchla."



MY GRANDMOTHER'S FATHER AND UNCLE

Fajwel Fuks operated a shop in Wyjazd Lubelski and dealt in commerce. His brother, my great-grandfather, operated a cap-making shop at Nowy Rynek 5 in Zamosc. This location is very close to where the family resided at Ogradowa 7.


Post-war photo of my great-grandparents, Chana Czesner and Gershon Fuchs.
A pre-war photo of my grandmother's uncle Fajwel (Faivel) Fuks and his wife, Frajdel.
Fajwel and Frajdel were killed at the Komarow Ghetto.



MY BUBBE TAUBA

My grandmother, Chaja Tova Fuks, was born in 1917 in Zamosc, Poland. Around 1930, she had an incident in a local river in which she was pushed in and could not swim. A friend, Rojza Krug, jumped in and rescued her. Growing up in Zamosc she belonged socially to a group called Freiheit, which was a youth Zionist organization that held social events in the city.


A post-war photo of my grandmother, Tauba.
A post-war photo of my grandmother with my grandfather.
Fuks family descendants in the United States.




SURNAME MEANINGS

"Fuks" is a Polish version of the more traditionally German Fuchs. It is usually assigned to persons with "Fox-like" characteristics, including cunning and red (in color) features.

The surname Brumer has two possible meanings: 2) nickname for a person who hummed, brumer (Yiddish) or 2) nickname for a curmudgeon, from an agent derivative of Middle High German brummen or "to buzz". "Brumm" in German would also be a nickname for a noisy or restless person.

KRASNYSTAW, POLAND

The customs records of the town of Krasnystaw, Poland for the year 1548 shows that Jews were living in Krasnystaw then. In 1554, Jews were prohibited from owning dwelling houses in the town and suburbs, and in 1584 they were allowed to reside in the suburbs only. In 1761, three Jews from Wojslawice and one from Czarnoloz were convicted in a blood libel trial in Krasnystaw; another accused, the rabbi of Wojslawice, committed suicide in prison. The Jewish population in 1776 was 63. In the first half of the 19th century, there was a bitter struggle between the Jews and the townsmen, who wished to keep their privilege of not tolerating Jews in the town.

In 1824, Jews were permitted to reside temporarily in several villages near the town, but the last restrictions on Jewish residence in Krasnystaw were not abolished until 1862. From 11 Jews residing in the town in 1827, the community grew to 151 (4% of the total population) in 1857, and 1,176 (25% of the total) in 1897. At that time 80% of the local trade was from Jews. In 1921, the 1,754 Jews still constituted 20% of the town's population. By this time my family had moved to Zamosc.

The old synagogue, which still stood at the beginning of the 20th century, retained 14th and 15th Century architectural features. The Germans set up a ghetto for around 2,000 Jews including refugees in August, 1942. All were deported to Izbica and from there mostly to the Belzec Concentration Camp. I created a website to memorialize Jewish Krasnystaw.

ZAMOSC, POLAND

By 1935, my grandmother was living on Zarwanica Ul. in the new section of Zamosc. She had previously lived on Rynek Ul. near the marketplace. Her cousins Solomon and Rucha Laja Czesner also lived near that location, as they shared a courtyard. I created a website to memorialize Jewish Zamosc.

The Zamosc synagogue was located on Hrubieszowsko Ul. Famous Jewish city residents included Jewish communist activist and leader of the French Resistance during World War II Joseph Epstein, Marxist theorist Rosa Luxembourg, Yiddish author Dr. Shlomo Ettinger, and Yiddish language author and playright I.L. Peretz. An earlier Zamosc-born notable was Rabbi Izrael Ben Moshe Zamosc, a famous philosopher and mathematician who advised Moses Mendelsohn.


The old synagogue in Zamosc.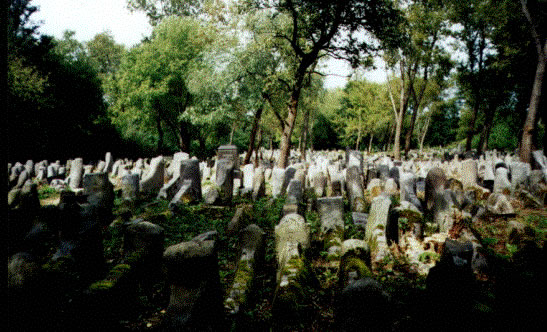 The cemetery at Berdichev, Ukraine, where great-grandmother Chana Fuks is buried.



Zamosc is a unique urban complex founded at the end of the 16th century by Jan Zamoyski, the Chancellor and Grand Hetman of the Crown. Designed by Italian architect Bernado Morando, Zamosc was built from scratch as a model Renaissance town and an impregnable fortress, one of the biggest in the kingdom of Poland.

Jews settled in Zamosc from 1588. At first it was mainly Sephardic Jews from Turkey, Venice, Flanders and Holland. Having received a privileged status from Jan Zamoyski, they built a synagogue in a mixture of Renaissance and Baroque style. During this time this was the only religious community of Sephardic Jews in Poland.

However, in the second half of the 17th century, Ashkenazi Jews were in preponderance and Sephardic Jews became assimilated or left the town following numerous wars. Jewish Zamosc marked its unique character once again at the turn of the 18th century becoming the most dynamic centre of Haskalah or the Jewish Enlightenment.

Before the outbreak of the Second World War some 12,500 Jews lived in Zamosc -- accounting for 43 percent of the total population. The biggest concentration was in the Old Town and New Town districts, mainly around the New Town market square. Jews controlled nealy 80 percent of the local trade, 65 percent of crafts and 54 percent of industry, Jewish political parties and associations were flourishing, along with schools, including one middle school for Jewish students.

THE EXTERMINATION OF JEWISH ZAMOSC

On September 14, 1939 Zamosc was first captured by the Germans and then for two weeks by the Soviets. The arrival of the Soviets was hailed with enthusiasm because some of the Jews perceived them as the liberators from the German yoke.

Almost all of the Jewish population who remained in Zamosc after 1941 were killed, mostly in concentration camps. After the war, approximately 300 Jews returned to Zamosc, most of them from the Soviet Union. They were not welcomed. At least two of them were murdered by Polish anti-Semites. Most of the Jews rapidly left the town. By 1947, there were just seven Jewish residents remaining in Zamosc.

The synagogue and both Jewish cemeteries were ruined by the Nazis during the war.

ZAMOSC GHETTO LISTING

Part of the 1940 Zamosc ghetto listing was put into a spreadsheet and listed online, and then taken offline. In the listing we see my family. The strange part is that my family was not in the Zamosc ghetto. They had escaped to Russia beforehand.



Fuks Bajla przy rodzicach 1923 Zamosc - Ogrodowa 7 panna
Translation: Fuks, Bella. At parents. Born 1923. Young lady
Fuks Chaja Tauba - 1917 Zamosc - Ogrodowa 7 panna
Translation: Fuks, Tauba. At parents. Born 1917. Young lady
Fuks Chana 1892 Zamosc - Ogrodowa 7
Translation: Fuks, Chana. At husbands. Born 1892. Married
Fuks Chuwa przy rodzicach 1928 Zamosc - Ogrodowa 7 panna
Translation: Fuks, Slava. At parents. Born 1928. Young lady
Fuks Gerszon czapnik 1889 Zamosc - Ogrodowa 7
Translation: Fuks, Gershon. Capmaker. Born 1889. Married
Fuks Gitla przy rodzicach 1925 Zamosc - Ogrodowa 7 panna
Translation: Fuks, Gitla. At parents. Born 1925. Young lady
Fuks Josef Ojzer przy matce 1927 Zamosc - Ogrodowa 7 kawaler
Translation: Fuks, Josef. At parents. Born 1927. Young bachelor
Fuks Salomon przy rodzicach 1920 Zamosc - Ogrodowa 7 kawaler
Translation: Fuks, Solomon. At parents. Born 1920. Young bachelor
Fuks Sura Mindel przy matce 1924 Zamosc - Ogrodowa 7 panna
Translation: Fuks, Sura. At parents. Born 1924. Young lady
Fuks Udla przy rodzicach 1921 Zamosc - Ogrodowa 7 panna
Translation: Fuks, Udla. At parents. Born 1921. Young lady



In a separate listing, Chana Fuks is listed with her maiden name and a different birthdate:



Czesner Chana przy mezu 1895 Chelm Ogrodowa 7 mezatka
Translation: Czesner, Chana. At husbands. Born 1895 in Chelm. Married.



The family resided at Ogrodowa 7 in Zamosc. Also listed at Ogrodowa 7 are:



Herszenzon Estera przy rodzicach 1939 Zamosc - Ogrodowa 7
Herszenzon Izaak stolarz 1903 Zamosc - Ogrodowa 7
Herszenzon Liwcia przy rodzicach 1933 Zamosc - Ogrodowa 7
Herszenzon Moszko stolarz 1873 Zamosc - Ogrodowa 7
Herszenzon Ruchla przy mezu 1906 Krasnystaw Ogrodowa 7
Herszenzon Sura Bajla przy rodzicach 1931 Zamosc - Ogrodowa 7
Hofman Hinda handel 1870 Zamosc - Ogrodowa 7
Elbaum Dawid kamasznik 1887 Tomaszow Lubelski. Ogrodowa 7 zonaty
Elbaum Mirla przy mezu 1886 Zamosc - Ogrodowa 7 mężatka
Elbaum Sura Rywka przy rodzicach 1920 Zamosc - Ogrodowa 7 panna
Borensztajn Chana przy mezu 1906 Zamosc - Ogrodowa 7 mezatka
Borensztajn Rywka przy rodzicach 1934 Zamosc - Ogrodowa 7 panna
Bromberg Fajga - 1873 Zamosc - Ogrodowa 7 wdowa
Bromberg Chaja Liba przy matce 1916 Zamosc - Ogrodowa 7 panna
Bromberg Josek Icko - 1904 Zamosc - Ogrodowa 7 żonaty
Bromberg Szmul Dawid przy rodzicach 1939 Zamosc - Ogrodowa 7 kawaler
Borensztajn Rubin handel 1907 Grabowiec Ogrodowa 7 zonaty
Borensztajn Szloma Chaim przy rodzicach 1937 Zamosc - Ogrodowa 7 kawaler



Fortunately, the family escaped to Russia and was never actually in the ghetto.

I have created a website to memorialize the city of Zamosc and its Jewish residents. View it here.

LIFE IN AMERICA


My grandmother Tauba Fuks with her sisters Slava Fuks and Ora Fuks.



My grandparents settled in Milwaukee, Wisconsin. They had two children. My grandmother speaks about the Holocaust to audiences in the Milwaukee area.




If you see any connections in the below, please contact me.

Surnames of those in my direct ancestral line appear in BOLD.






Descendants of Szymon Fuks


1 Szymon Fux
..+ Jenta (unknown)
........ 2 Judka Fux b: Abt. 1793 in Poland d: Sept. 8, 1838 in Piaski, Poland
.......... + Fajga (unknown) b: unknown d: 1830-1838 in Poland
.................. 3 Sanel Judka Fuks b: Abt. 1810 in Poland d: 1847 in Rejowiec, Poland
......................+ Chaja (Haja) Bluma Katz (Kac) b: Abt. 1810 in Poland d: unknown
............................... 4 Ruchla Laia Fuks b: 1831 in Swierze, Poland d: 1834 in Piaski, Poland
............................... 4 Szymon/Szymel Fuks b: Sept. 5, 1833 in Swierze, Poland d: 1863-1864 in Krasnystaw, Poland
.................................. + Ester Hudes Szok b: 1836 in Krasnystaw m: 1852 in Krasnystaw d: Aft. 1860
..................................... [See below for additional information on this family line.]
............................... 4 Chana Fajga Fuks b: unknown d: 1836 in Swierze, Poland
............................... 4 Jenta Fux b: 1836 in Swierze, Poland d: Aft. 1857
.................................. + Mendel Dawid Bergman b: 1832-1836 in Izbica, Poland m: July 1, 1857 in Izbica d: unknown
............................... 4 Hena Fuks b: 1846 in Rejowiec, Poland d: unknown
.................. 3 Estera Fuks
.................. 3 Icek Tuwia Fux 1811-1830 in Poland m: 1848 in Zamosc, Poland d: 1902 in Zamosc, Poland
......................+ Fayga Bekierman
............................... 4 Drejzla Fux b: unknown d: 1856 in Zamosc, Poland
............................... 4 Sura Kajla Fuks b: 1858 in Zamosc, Poland d: 1860 in Zamosc
............................... 4 Gitla Fuks b: 1861 in Zamosc, Poland d: unknown
............................... 4 Lejb Fuks b: 1877 in Zamosc, Poland d: unknown
............................... 4 Jochwet Fuks b: 1877 in Zamosc, Poland d: unknown
............................... 4 Brucha Fuks b: Abt. 1854 in Zamosc m: 1874 in Zamosc d: unknown
.................................. + Dawid Fuks b: in Biskupice, Poland d: unknown
..........*2nd wife of Judka Fux:
.......... + Cypa (unknown)



Descendants of the Szymon Fuks (great-grandson)


1 Szymon Fuks b: Sept. 5, 1833 in Swierze d: 1863-1864 in Krasnystaw, Poland
.. + Hudes Szok b: 1836 in Krasnystaw m: 1852 in Krasnystaw, Poland d: Aft. 1860
........ 2 Chana Fuks b: 1855 in Krasnystaw, Poland d: 1856 in Krasnystaw, Poland
........ 2 Chaim Sanel Fuks b: 1857 in Krasnystaw, Poland d: unknown
........ 2 Szloma Fuks (also spelled Szlema/Szlama) b: 1860 in Krasnystaw d: Bef. 1925 in Zamosc
.......... + Sura Ruchla Brumer b: Abt. 1859 in Poland m: Abt. 1878 d: Abt. 1934 in Zamosc
.................. 3 Fejbush "Fajwel" Fuks b: 1878 in Krasnystaw d: 1941/1942 at Komarow, Poland
......................+ Frajdel "Frida" Shvartzberg/Schwarzberg/Shwarcberg b: 1881 in Zamosc, Poland d: 1941/1942 at Komarow
--
Notes on Fajwel and Frijda Fuks:
.............Faivel Fuks was a successful loan agent and merchant in Zamosc. Prior to the war, he rented out a vacant carpentry shop. Most of his property was in the old part of the city of Zamosc. The Zamosc Yizkor book lists his address as "Plac Mickiewcza #14", 14 Mickiewicz Street.
.............In the summer of 1941, a ghetto was set up in Komarow, and the Jews were forced into it. According to the Zamosc Judenrat List, Fajwel and his wife both died at Komarow. On May 23, 1942, the dismantling of the ghetto began, and that very day many of its inhabitants, mainly from other localities, were sent to the extermination camp at Belzec. In October and November, the Jews of the ghetto were annihilated; most of them were shot on the spot and the others were sent to Belzec. Only a handful of Jews managed to escape.
.............The Belzec Concentration Camp operated between March 17, 1942 and June 31, 1943. Between 430,000 and 500,000 Jews are believed to have been killed at Belzec, along with an unknown number of Poles and Romanians. My grandmother's aunt and uncle (Fajwel and Frajdel) were murdered at Komarow.
--
.................. 3 Szymon Fuks b: Abt. 1881 d: June 20, 1901 in Zamosc, Poland
..................... witnesses to death: Jankiel Gershoner/Tetkotter (translation? sp?) and Gersz Sobol
.................. 3 Fajga Fuks b: Aug. 23, 1883 in Zamosc, Poland d: 1888 in Zamosc
..................... witnesses to birth: Szlemy Herszon, 66; Lejby Sobol, 48, both merchants
.................. 3 Szejndla Fuks b: Aug. 4, 1886 in Zamosc, Poland d: 1888 in Zamosc
..................... witnesses to birth: Josef Edelman, 45, merchant; Moszko Guberman, age 60
.................. 3 Gerszon Fuks b: 1889 in Zamosc d: Jan. 7, 1976 in Milwaukee, Wisconsin
......................+ Chana Czesner b: Aug. 14, 1894 in Chelm d: 1962 in Berdichev, Ukraine
--
Notes on Gershon and Chana Fuks:
.............Chana Czesner Fuks is buried at the old cemetery in Berdychiv, Ukraine, the same place where the Berdichever Rebbe rests.
.............Gershon Fuks served in the Russian army prior to 1918. He was a capmaker (gittelmacher) by trade. He survived the war in the former Soviet Union (Ukraine) and immigrated to the U.S. in May, 1975. He is buried at Agudas Achim Cemetery in Cudahy, Wisconsin.
--
............................... 4 Chaja Tova "Tauba" Fuks b: Sept. 10, 1917 in Zamosc, Poland
.................................. + Szymon "Srul" Krochmalnik b: 1914 in Dubno, Ukraine d: Abt. 1942 in Russia
.............................................. 5 Bujna Krochmalnik b: 1940 in Ukraine d: 1940 in Ukraine
.................................. *2nd Husband of Chaja Tova "Tauba" Fuks:
.................................. + Judah Aryeh Biterman b: Dec. 6, 1904 in Hrubieszow, Poland d: Aug. 30, 1975 in Milwaukee, WI
--
Notes on Tauba Fuks:
.............Prior to the war, Tauba Fuks may have lived at Zarwanica Street in Zamosc. She grew up at Ogrodowa 7 in "New Zamosc". New Zamosc is where most of the Jews lived. It had craftsmen and tradespeople living in it. Old Zamosc (called "Stary Zamosc") had the town square, city hall, magistrate, and school. People lived above these institutions.
.............In 1939, at her urging, the Fuks family left Zamosc and headed across the Bug River to the present-day Ukraine, to the city of Zapatna. The family was sent to Dubno, Ukraine. At that time, they began living with another family, the Krochmalniks, which consisted of a mother (likely named Ruchla) and three brothers (Mikhael, Srulik, and Chaim). Michael was the oldest brother, born circa 1911. Srul (Szymon) was born circa 1914. In late 1939 or early 1940, Tauba was married to Srul Krokhmalnik after falling in love. It was a very difficult time and both families were very poor. Tauba spent her honeymoon alone, sleeping on a table in the family home. Soon after, everyone except Mrs. Krochmalnik and her youngest son Chaim left to go further into Russia because there was more freedom there. After they left, Mrs. Krochmalnik sent for her son and begged him to return home. Srul returned with his new wife Tauba and his brother Michael. Soon after Tauba returned, she and Srul welcomed their first child, Bujna, born in 1940. Unfortunately the joy was not long-lasting. Srul was called away to serve in the Russian army and Tauba never saw him again. Tauba's mother and sister Bella came to Dubno and begged her to return with them, but she did not because of her husband and daughter. Unfortunately, her daughter passed away at age 3 months. She was not healthy from the start and the poverty level surrounding Tauba was too great to sustain an infant. Later on, Tauba learned that her husband died around 1944 when the Russian Army deployed him to Berlin to fight the Germany Army.
.............In mid-1941, Tauba began working at a restaurant in Dubno. The manager of the restaurant was Mr. Kucharowicz. However, soon after she was confined to the Dubno ghetto, beginning in September of 1941. She, like other ghetto inhabitants, wore two yellow stars (one on the front, one on the back) and a Star of David. Soon after, she heard a rumor that those without an occupation in the Dubno ghetto would be killed. Her mother-in-law and her young son Chaim Krochmalnik met this fate. They were shot execution-style, as were thousands of others in the Dubno ghetto. Tauba spoke German. She proposed to an authority a novel idea: open a laundry shop for those in the ghetto. The location of this shop was placed outside of the ghetto, so each day, she -- unlike other Jews -- was allowed out of the ghetto. One day, likely in late 1941, she approached Mr. Kucharowicz and begged him to help her escape the ghetto, and he did. Mr. Kucharowicz may have been called Stan or Stanislaw. He gave Tauba the identity papers and rosaries of his wife, Maria, and he drove her to the middle of no where in Ukraine. That night she slept under a tree.
.............When she awoke in the morning, she asked German soldiers where she was. She was on the border between Dubno and Ternopol in modern Ukraine (then Poland). She found work in Ternopol for maybe two weeks, but soon after she was suspicious that people would realize she was Jewish. With nothing but a recommendation paper from her boss, she went on a train without a destination. She met a Polish girl on the train who asked her, "Where are you going?" Tauba replied, "Where are YOU going?" The girl replied, "Khodoriv!" Tauba, with no idea where to go, replied, "What a coincidence. That's where I am going!" In Khodoriv, she found a job working in a kitchen. Engineers who were building roads and bridges would eat at the cafeteria and Tauba was an assistant cook. She also stayed at the location, in a room attached to the kitchen. One day a man came to her and asked her, "Who are you?" The man was curious to learn more about Tauba. She and the man, Fritz Kwabus (Quabus), became good friends. Fritz was a German, probably around age 35, who was living in Breslau (which is now Wroclaw, Poland). He had a wife and daughter. The daughter was named Gisella. He was the head of the engineering company that was involved with local construction projects such as building bridges.
.............Tauba's boss in Khodorov said that he wanted to her an additional person to help her cook. Knowing this was not a good idea, she tried to dissuade him, but soon after a Ukrainian woman named Olga was hired. Olga took one look at Tauba and said, "She's a Jew! She's a Jew!" At this point, Tauba consulted Mr. Kwabus and asked him if he could take her away. She made up a story about why she had to leave. He probably knew her circumstance. Regardless, he complied, and took Tauba to a field and told her to meet him in front of the train station the town of Stryi in the morning. That night, Tauba slept in a shed. She had faith that he would arrive the next day, and he did. Mr. Kwabus took Tauba to a restaurant in Stryi and confronted her. "I don't care who or what you are," he said to her. "You're Jewish, yes?" he said. "It's not true!" she proclaimed. Admitting the truth would put her life in danger more than it was already. Mr. Kwabus accepted her story. While in Stryi, they walked down the main street, and Tauba witnessed Nazis murdering the Jews of Stryi. It was a horrifying sight. That evening, Fritz took her to a welding shop and locked her up for the night.
.............Convinced she may be in danger after the frightening scenes in Stryi, Tauba hitched a ride end ended up near Morshyn. She slept in a shed for the first night there. Tauba soon found a job in a laboratory at a German hospital. She was somewhat comfortable there. One day her co-worker asked her to go visit her grandmother in a nearby location. They took the train. Before it left the station, Tauba began to sing a German song in Polish. A Polish military man came over and took her off of the train. She was surrounded by 10 Gestapo, both Polish and German, and they announced to a crowd that she was a Jew. Then she was put into a small prison in Morshyn. The same guard who took her off the train approached her the next morning and demanded, "Admit to me that you are a Jew. Do it!" He held up a loaded pistol to her right temple. She replied, "I am not a Jew! If you want to shoot me, then shoot me." She explained that she liked the melody of the song, and only knew it after writing it down in Polish and rehearsing it. She was set free due to sheer willpower and the help of the Almighty.
.............In 1942, she asked some troops in the area if they could tell her where their authority was. She wanted to approach them for a job. The Lieutenant of the traveling German unit was someone who, by coincidence, been treated by Tauba while she worked at the hospital in Morshyn. The Lieutenant, named Isselar (spelling?), allowed her to work for the unit. She prepared food, such as peeling carrots and potatoes, on a traveling kitchen wagon. The unit traveled all throughout Europe, including Germany, Poland, Ukraine, Hungary, and Romania between 1942 and 1945. On May 5, 1945, the Lieutenant explained to her that she no longer had to be scared of the bombs, and she saw the American/British troops liberating the area. She was very scared to admit that she was Jewish. Who could you trust during the time period?
.............After a prolonged effort to prove she was, in fact, Jewish, Tauba ended up at the displaced persons camp in Zeilsheim, Germany, where she met Judah Biterman in 1945. They were married in 1946.
.............Tauba and Judah emigrated from Hamburg to New York on the ship Marine Marlin in January/February of 1948. She became a naturalized U.S. citizen on November 25, 1953. She speaks about the Holocaust to audiences in the Milwaukee, Wisconsin area. Her Holocaust survivor testimony is available via Yale University.
--
.................................................. 5 Joel Harry Biterman b: private
..................................................... + Candith Marie Kolb b: private
..................................................... *2nd Wife of Joel Biterman:
..................................................... + Francine Glickin b: private
.................................................. 5 Shirley Mae Biterman b: private
..................................................... + Irving Leslie Fuld b: private
............................... 4 Shlomo Fuks b: Jan. 1, 1920 in Zamosc, Poland d: Nov. 10, 1998 in West Hollywood, CA
.................................. + Fajga Krochmalnik b: 1920-1925 in Dubno, Ukraine d: Bef. 2000 in Ukraine
.................................................. 5 Simon Fuks b: private
............................... 4 Udl "Ora" Fuks b: Oct. 29, 1921 in Zamosc, Poland d: March, 2006 in Milwaukee, WI
.................................. + Hemjia "Henry" Kozochowicz b: Oct. 15, 1910 in Poland d: Dec. 2, 2010 in Milwaukee, WI
.................................................. 5 Isadore "Izzy" Kozochowicz b: private
..................................................... + Janice Diane Rifzis b: private
.................................................. 5 Sarah Kozochowicz b: private
..................................................... + Richard Mandel b: private
..................................................... *2nd Husband of Sarah Kozochowicz:
..................................................... + Zion Medina b: private
.................................................. 5 Rivka "Becky" Kozochowicz b: private
..................................................... + Richard Haack b: private
............................... 4 Genia "Gitl" Fuks b: May 31, 1925 in Zamosc d: Feb. 2, 1998 in Los Angeles, CA
.................................. + Misha Begelfer b: March 2, 1928 in Europe d: Aug. 14, 2008 in Los Angeles, CA
.................................................. 5 Joseph Begelfer b: private
.................................................. 5 Nina Begelfer b: private
..................................................... + Leonard Zukin b: private
.................................................. 5 Anatoly Begelfer b: private
............................... 4 Bella Fuks b: 1926 in Zamosc d: 2001 in Ukraine
.................................. + Zachar Szkolik b: in Ukraine d: 2001 in Ukraine
.................................................. 5 Vladimir "Volodja" Szkolik b: private (living in Minsk, Belarus)
.................................................. 5 Leonid "Lenia" Szkolik b: private (living in Shchors, Ukraine)
.................................................. 5 Andrei Szkolik b: private (living in Minsk, Belarus)
............................... 4 Slava Fuks b: private
.................................. + Sienia Reyzin b: private
.................................................. 5 Sasha Reyzin b: private




Back to My Family Genealogy