KOLB ORIGINS

The Kolb family was living in the village of Riedseltz in the province of Bas Rhin in the Alsace-Lorraine region of France for at least a hundred years prior to their journey to the United States in 1846.

Riedseltz has a present-day population of about 1,100. The village is located in the department of Bas-Rhin and its canton is Wissembourg.

During the 30 Years War (1618-1648), both the village and the church were constantly threatened and pillaged. By 1755 the church was very damaged. At that point, the church was destroyed and a new church was constructed and blessed in 1760. The cross also dates to this time. The altars were dedicated in 1761 -- the high altar to St. Jacques le Majeur and the lateral altars to St. Sebastien and Our Lady of Pains. An organ was installed in 1762, which was later replaced in 1870.

The village was predominately Catholic. A breakdown of the religious composition in 1807: Catholic: 93%, Anabaptist: 3%, Jewish: 3%, Lutheran: less than 1% and Calvinist: less than 1%. Some additional photos of the village are online.

Not much is known about the Kolb family origins. Religiously, the family was Roman Catholic. The family likely spoke German, but French was used to cite the records in Riedseltz. Thus, it is common for the name Peter Kolb to appear as Pierre Kolb in the records. There is an oral history in my family that the Kolb family in France is somehow related to the German-born Revolutionary War General Johann de Kalb (Baron de Kalb), who lived from 1721 to 1780.

Much of the village of Riedseltz was made up of Kolb family members, back to at least 1750. Kolbs still "rule" the town; the current mayor is a Kolb.

The surname Kolb is from Middle High German kolbe in various meanings. There is record of a house named 'zum Kolben' in Strasbourg back to 1356. There is also record of a Diether Kolbelin living in Strasbourg in 1309. These appear to be the most logical explanations of the Kolb descendancy in northern France, as Strasbourg is the nearest location of the historical Kolbs. Another possibility, of course, is that the Kolb family migrated from somewhere in Germany prior to 1750. This explanation would justify the rumored explanation of the relationship between the Riedseltz Kolb family and the U.S. Civil War General Johann de Kalb (who was born in Germany).

The surname Lux has three possible meanings: 1) German/Dutch patronymic from a vernacular form of Lucas; 2) a variant of Luchs, a nickname for someone with keen sight from Middle High German luhs or "lynx"; or 3) French: habitational name from places so named in the Cote-d'Or, Haute-Garonne, and Saone-et-Loire. Etymology of the surname Braa/Brah/Braah is not currently known. The surname Buckenmeyer can be broken down to two parts. "Bucken" is from the German buchen, a habitational name from Buchen, a place east of Hamburg in Odenwald district, so named with Middle High German buoche, meaning 'beech tree' or 'beech wood'. "Meyer" is from the Middle High German meier, a status name for a steward, bailiff, overseer, tenant farmer, or village headman.

RIEDSELTZ, FRANCE

In 1591, Riedseltz had 405 residents. In 1605, it had 465. In 1715, it had 470. In 1792, it had 1,013. In 1851, it had 1,503. In 1936, it had 966. In 1995, it had 1,060 residents.

During the 30 Years War (1618-1648), both the village and the church were constantly threatened and pillaged. In 1755, the church was damaged. The church was demolished and a new church was constructed and blessed in 1760. The cross also dates to this time. The altars were dedicated in 1761 -- the high altar to St. Jacques le Majeur; the lateral altars to St. Sebastien and Our Lady of Pains. An organ was installed in 1762, and was later replaced in 1870.


Riedseltz Cemetery.
Map of Riedseltz.
Residences in Riedseltz.
Residences of Riedseltz.




FAMILY LINES AND EMIGRATION

The beginning of the Kolb line is Pierre (Peter) Kolb, born in 1748, who married Catherine Lux. The Kolb family mostly farmed land on the outskirts of the village of Riedseltz.

Pierre and Catherine Kolb had a son, Pierre, who married Margaretha Braa. Pierre and Margaretha had a son, Pierre, who married Theresia Buckenmeyer.

The Kolb emigrant ancestors are Peter and Therese (Buckenmeyer) Kolb, who settled in Wyoming County, New York in 1846. Their reasons for emigration are unknown. The emigration record of the Kolb family appears as follows. The family traveled from LeHavre in France to the port of New York in June/July, 1846 and arrived Aug. 1, 1846 on the ship Francis Depeau. The surname Kolb was listed as Koll and Kolp. Peter Kolb was listed as a farmer.

--
Name / Age
Buckenmeyer, Jacob 46/M
Buckenmeyer, Marie Eve 44/F
Buckenmeyer, Jacob 21/M
Buckenmeyer, Magdalena 18/F
Buckenmeyer, Katharina 15/F
Buckenmeyer, Theresia 13/F
Buckenmeyer, Magdalena 8/F
Koll, Peter 32/M
Koll, Theresia 32/F
Koll, Jacob 7/M
Koll, Peter 5/M
Koll, Theresia 3/F
Koll, Laurent 0/M
--
source: Year: 1846; Microfilm serial: M237; Microfilm roll: M237_63; Line: 40; List number: 676.


A photo of St. Cecilia's Catholic Church.
The Kolbs settled in Sheldon, NY in 1846.





SHELDON, NEW YORK

Sheldon is a town in Wyoming County, New York. The population was 2,409 in 2010. The Town of Sheldon was founded in 1808. Wyoming County was created in 1841, shortly before the Kolb family moved there. Wyoming County is in the western part of New York State, east of Buffalo and slightly west of due south of Rochester. The county is in the Holland Purchase Region.

The county is largely rural, dotted with small towns. Even the county seat, Warsaw is quite small. Much of the area is wooded, used for timber. Some that are predominantly maple are tapped each spring for the production of maple syrup. Agriculture is mostly small family dairy farms, or hobby farms for people who work in Buffalo or Batavia. Apple orchards were once a major agricultural endeavor, but only a few are left. The area is well known for outdoor sports like fishing and hunting.

The Biehn, Buckenmeyer, Heintz, Hibsch (Huebsch), Kibler (Kuebler), Stephan, and other Riedseltz families all settled in Sheldon Township, Wyoming County. The Kolb family also came to Sheldon, in 1846, with Jacob Buckenmeyer and his wife. It is unclear how long the Kolb family stayed in New York or why they left. It is likely the family was long gone by 1860.

An 1850 U.S. Census for Sheldon, Wyoming County, New York, lists the family:

KOLP Peter 38 m farmer France
KOLP Persis 37 f France
KOLP Jacob 11 m France
KOLP Peter 8 m France
KOLP Persis 6 f France
KOLP Joseph 4 m NY
KOLP Catherine 1 f NY

The family resided in house #289 in Sheldon. It is unclear why both Theresa the elder and Theresa the child were listed as "Persis", a Greek name. Lorenz Kolb does not appear in the census listing. Later records list him. It appears to be a mistake that he was not accounted for. The Kolbs were original members of St. Cecilia's Church in Sheldon. They joined in 1847 and were assigned the number 70.

By 1860, the Kolb family had moved. Living in house #289 in Sheldon is John and Janette Romater, ages 24 and 23, farming.

TRAVELING THROUGH AMERICA

In the 1855 Wisconsin census, a Theresa Kolb appears as living in Milwaukee's 2nd Ward. Therefore we can conclude that between 1850 and 1855, Peter Kolb (born in 1813), farmer of Riedseltz, passed away.

In the 1860 Census of Milwaukee, Wisconsin, the Kolbs appear as Theresa, Peter, Laurent, and Catherine. The listing is as follows:

Street number: 1848, ward 9, Milwaukee (street name not provided)
Value of Real Estate: $100
Theresia Kolb (also listed as Koll), age 41, wed, born in France
Peter Kolb, age 16, laborer, born in France
Joseph Kolb, age 12, in school, born in Wisconsin
Lorenz Kolb, age 8, in school, born in Wisconsin
Catharina Kolb, age 7, in school, born in Wisconsin

(source: Year: 1860; Census Place: Milwaukee Ward 9, Milwaukee, Wisconsin; Roll: M653_1423; Page: 824; Image: 427.)

Neither Jacob Kolb, Theresia Kolb (the daughter), or the elder Peter Kolb appear in the listing. This time Lorenz appears, even though he was not in the 1850 census. Jacob Kolb may have been living on his own at this point. It appears likely that Theresa Kolb and the elder Peter Kolb passed away, although it cannot be proven.

GREAT-GREAT-GRANDPA IN THE CIVIL WAR

Peter and Theresa Kolb's second son, Peter (born 1841), is my great-great-grandfather. He served in the Civil War in the 22nd Kentucky volunteer infantry (Company K) and was discharged in 1863.


Portrait of Peter Kolb (born 1841) taken between 1880 and 1890.



A detailed account of his Civil War experience can be found here.

PETER KOLB'S BROTHERS

An 1870 U.S. Census record lists Peter Kolb's brother, Jacob, age 31, as living in ward eight in Rochester, New York and married to Theresa, age 23. The surname is spelled Kolp. It appears that this Jacob Kolp is the brother of great-great-grandfather Peter Kolb due to Jacob's birth date and birth place. By trade, Jacob was a carpenter.

An 1870 U.S. Census record lists Joseph Koll, age 22, a laborer, living with the family of Henry and Ernestine Peterman in Milwaukee's second ward. This could be the brother of great-great-grandfather Peter Kolb.

LIVING IN MILWAUKEE

Great-great-grandfather Peter Kolb's first wife, Catherine (unknown maiden name), a German emigrant who he may have met in Louisville, Kentucky, died in March of 1880, leaving him with an infant son. Peter Kolb quickly (within six months) married Katharina Pecher after emigrating to Milwaukee, Wisconsin.

Pecher was the cousin of Kolb's neighbors, brothers Andrew and John Schoenecker, and came to serve the Kolb family in 1878 when it was decided that more help was needed to raise the son Joseph Kolb due to Catherine's declining health. Katherine Pecher served as an equivalent to the family housekeeper.

By 1867, Peter Kolb was living at 1414 Galena Street in the 9th ward of Milwaukee, Wisconsin. This is currently a vacant space. Galena extends from 12th to 25th Street. It begins around I-43 (near 12th) and ends around Tiefenthaler Park. It's in the Park View neighborhood between Highland Avenue and North Avenue and is close to downtown Milwaukee. The borders of the Milwaukee 9th ward in 1874 were W. Walnut Street to the north, N. 27th St. to the west, W. Vliet St. to the south, and N. 7th St. to the east.

Peter Kolb's last address was 500 - 16th Street in Milwaukee. This location is currently at the intersection of W. Clybourn and 16th Street, one block from 794 (East/West Freeway) and close to the Marquette University campus. No current structure appears at the location.

NEXT GENERATION: PETER KOLB'S CHILDREN

Peter and Katherine Kolb had five children: three girls and two boys. Their son, Peter Andrew Kolb, married Margaret Frank. Peter A. and Margeret Kolb had a son, Russell Kolb, my grandfather.

The Kolbs attended St. Anne's Church in Milwaukee. They lived at 41st Street between Center St. and Clarke St. in central Milwaukee. After Margaret (Frank) Kolb passed away, her husband and son moved in with Peter A. Kolb's sister Lilly Langer at 3327 N. 37th St., Milwaukee. This location is in the center of the city, east of Fond du Lac Ave. and south of Capitol Drive. The residents of that location in the 1940 census included Catherine Kolb and her daughters Anna, Katherine Kopersky, and Lilly Langer. Katherine Kopersky's daughters Rose and Dolores were also living at that location. In 1940, Peter, his second wife Theresa, and their son Russell are listed at 2930 N. 54th St., Milwaukee. This location is south of Burleigh and east of Appleton Avenue.

Grandpa Russell Kolb attended St. Anne's School for junior high and then Marquette High School. He went on to Marquette University for a degree in business and then Marquette University School of Law. My grandparents resided around 33rd and Locust up until the early 1950s, and then moved to the western suburbs. They attended St. Anne's Church and then St. Joseph's Church.

The family continued its residency in Milwaukee for generations to come. Photos of the family are available OnLine.


Peter Andrew Kolb at Halloween.
Peter Andrew Kolb portrait.
Peter Andrew Kolb's siblings, Lilly (left) and Annie. My grandfather's parents
died at a young age so he was raised by his aunts, Lilly and Annie.
Grandpa Russell Kolb, WWII soldier.

Grandma Vivian Hirschboeck Kolb.



NOTABLE RELATIVE

Ed Don George represented the U.S. in freestyle wrestling at the 1928 Olympics in Amsterdam and placed 4th in his weight class (+87 kg.). Ed Don George and I have the same great-great-great-great-great-grandparents, and he is therefore my sixth cousin, once removed -- and my mom's sixth cousin.

Quick and powerful, he took on the name "Ed Don George" and began his professional career shortly after returning from the Olympics. He captured the NWA world heavyweight title on December 10, 1930, from Gus Sonnenberg. Double-crossed by Ed "Strangler" Lewis in Los Angeles on April 13, 1931, George dropped the title to the Strangler, but promoter Paul Bowser maneuvered it back to George, who held it for nearly four years, finally losing it to Danno O'Mahony on June 30, 1935. George remained one of the top box office draws of the 1930s, and on April 5, 1937, defeated Al Perreira in Paris to capture the European version of the world title.

He also went on to win the World Heavyweight title defeating Henri Deglane on February 9, 1933 and again won it by defeating Steve Casey on April 18, 1939. Ed Don's signature moves were the airplane spin, grinding headlock, seated armbar, and hammerlock. He had feuds with wrestlers Harry Kent, Jope Savoldi, Mike Romano, and Vic Christy.

In the March 29, 1933 edition of the New York American newspaper, there was a picture of Ed Don George with a woman, Anne Boland, who he saved from a "Boston masher." George "used a punch to fell the brute."

George was born in North Java, New York. He wrestled for both St. Bonaventure University and for the University of Michigan. During the years 1926-1929, Ed Don George attended the University of Michigan, concentrating in engineering. He graduated from St. Bonaventure University in 1929.

In March 1942 he joined the U.S. Navy. There he taught hand-to-hand combat to naval air cadets. In December 1945 he left the navy with the rank of Commander. During the late 1940s through the 1950s he promoted numerous wrestling matches in the United States. In the mid 1950s he found himself promoting wrestling at the casinos in Havana, Cuba until Fidel Castro came to power.

In 1949, Ed Don George bought a 375-acre parcel just east of North Java, New York where Camp O'Ryan was situated. He leased this land for 25 years to the federal government, which built, in conjunction with New York State, a New York National Guard training site.

Ed Don George died in Ft. Lauderdale, Florida on September 18, 1985 and his body buried in the village of North Java, New York. He was inducted into the Wrestling Observer Newsletter Hall of Fame in 1996. In 2006 he was inducted into the Professional Wrestling Hall of Fame.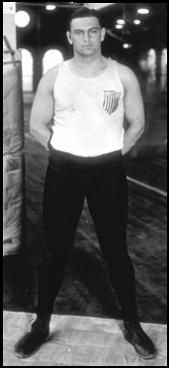 Ed Don George as an Olympic wrestler. He narrowly missed the Gold Medal at the 1928 Olympics.

5th cousin, once removed, Ed Don George as a professional wrestler.

Ed Don George's gravestone at St. Nicholas Cemetery, North Java, New York.






(Special note of thanks to distant cousin Karen L. Kolb of Buffalo, NY
for her research and translation of the original French records.)





If you see any connections in the below, please contact me.

Surnames of those in my direct ancestral line appear in BOLD.






Descendants of Peter Kolb


1 Peter Kolb b: Abt. 1748 in Riedseltz, France d: Jan. 4, 1784 in Riedseltz, France
.. + Katharina Lux b: 1750 in Riedseltz d: Jan. 9, 1794 in Riedseltz
--
Notes on Peter and Katherine Kolb:
.............Pierre Kolb's occupation was a cultivator in Riedseltz. In 1781, shortly before he passed away, he was in a dispute with his sons and a man from Germany, according to "Inventaire-sommaire des archives departementales de Saone-Et-Loire" by L. Michon, a compilation of French civil records. Pierre and his sons pressed charges against the man, called Jean-Michel, from Bundenthal, Germany. The man, who was an oil manufacturer, was sued for taking colza oil from the Kolb family. Colza was used as a light source in medieval Europe.
.............Katherine Kolb's death record is a civil record written in Old Germanic script. She died the 20th day of Pluvius, 1794. Witnesses were Jacob Lux and Michael Waltz.
--
........ 2 Katharina Kolb b: Abt. 1765 in Riedseltz d: Oct. 11, 1839 in Riedseltz
............+ Johan Kuebler b: 1761 in Riedseltz d: April 30, 1823 in Riedseltz
................. 3 Maria Anna Kuebler b: Feb. 18, 1787 in Riedseltz m: April 1, 1811 d: April 14, 1854 in Riedseltz
..................... + Joseph Himmelspach b: Oct. 23, 1788 in Riedseltz d: Dec. 13, 1831 in Riedseltz
............................... 4 Jacob Joseph Himmelspach b: Sept. 17, 1811 d: unknown
................................... + Eva Maria Heintz b: March 25, 1811 m: Jan. 26, 1835 in Riedseltz d: unknown
........................................... 5 Joseph Himmelspach b: Dec. 1, 1835 in Riedseltz d: Jan. 17, 1840 in Riedseltz
........................................... 5 Jacob Himmelspach b: Oct. 28, 1837 d: Nov. 19, 1907 in Buffalo, NY
.............................................. immigration: March 27, 1871
..............................................+ Frances (unknown)
...................................................... 6 Jacob Himmelspach b: April 1858 d: unknown
.........................................................+ Mary (unknown) b: unknown m: 1879 d: Dec. 29, 1910 in NY
............................................................... 7 Matilda "Tillie" Himmelspach b: Aug. 1879 in NY d: unknown
............................................................... 7 Frank Himmelspach b: Dec. 1883 in NY d: unknown
............................................................... 7 Edward Himmelspach b: Oct. 1885 in NY d: unknown
............................................................... 7 Lawrence Himmelspach b: Jan. 1889 in NY d: unknown
............................................................... 7 George Himmelspach b: Feb. 1891 in NY d: unknown
............................................................... 7 Lucy Himmelspach b: Feb. 1895 in NY d: unknown
...................................................... 6 Henry Himmelspach b: July, 1865 in France d: unknown
.........................................................+ Catherine (unknown) m: Abt. 1898
............................................................... 7 Elsie Himmelspach b: Abt. 1905 in USA d: unknown
...................................................... 6 Joseph Himmelspach b: Abt. 1867 in France d: unknown
...................................................... 6 Lauretta Himmelspach b: Abt. 1870 in New York d: unknown
...................................*2nd wife of Jacob dit Joseph Himmelspach:
................................... + Elisabeth Kastace
............................... 4 Katharina Himmelspach b: Dec. 16, 1813 in Riedseltz d: unknown
............................... 4 Eva Himmelspach b: Nov. 1, 1815 in Riedseltz d: unknown
............................... 4 Jacob Himmelspach b: Oct. 22, 1819 in Riedseltz d: unknown
................................... + Barbara Lantz b: May 11, 1815 in Riedseltz d: unknown
............................... 4 Michael Himmelspach b: July 27, 1821 in Riedseltz d: unknown
............................... 4 Elisabetha Himmelspach b: Feb. 19, 1823 in Riedseltz d: Sept. 7, 1823
............................... 4 Maria Anna Himmelspach b: July 22, 1824 m: June 11, 1854 d: unknown
................................... + Johannes Stark b: Sept. 21, 1795 in Riedseltz d: Dec. 26, 1861 in Riedseltz
........................................... 5 Dorothea Stark b: July 1856 in Riedseltz d: Jan. 21, 1858 in Riedseltz
............................... 4 Magdalena Himmelspach b: Jan. 28, 1826 in Riedseltz d: unknown
................................... + Michael Biehn b: Feb. 15, 1826 in Riedseltz d: unknown
........................................... 5 Barbara Himmelspach b: Feb. 5, 1848 in Riedseltz d: unknown
........................................... 5 Joseph Biehn b: May 13, 1866 in Riedseltz d: unknown
............................... 4 Barbara Himmelspach b: Oct. 28, 1828 in Riedseltz d: unknown
................. 3 Maria Elisabeth Kuebler b: Dec. 16, 1788 in Riedseltz d: April 21, 1802 in Riedseltz
................. 3 Jacob Kuebler b: April 28, 1791 in Riedseltz d: Feb. 28, 1868 in Riedseltz
..................... + Margaretha Josepha Heintz b: April 4, 1789 in Riedseltz d: Oct. 26, 1871 in Riedseltz
............................... 4 Katharina Kuebler b: June 4, 1815 in Riedseltz d: unknown
................................... + Michael Kolb b: April 1808 in Riedseltz m: May 23, 1835 d: unknown
........................................... 5 Michael Kolb b: Feb. 9, 1835 in Riedseltz d: unknown
............................... 4 Margaretha Kuebler b: Oct. 21, 1817 in Riedseltz d: unknown
................................... + Caspar Klein b: March 4, 1822 m: May 23, 1850 d: unknown
........................................... 5 Dorothea Klein b: 1851 in Riedseltz d: June 11, 1852 in Riedseltz
........................................... 5 Sebastian Klein b: June 1857 in Riedseltz d: May 21, 1858 in Riedseltz
............................... 4 Maria Anna Kuebler b: Feb. 22, 1821 in Riedseltz d: June 5, 1849 in Riedseltz
................................... + George Kolb b: April 5, 1818 m: April 30, 1845 d: unknown
............................... 4 Jacob Kuebler b: April 12, 1824 in Riedseltz d: unknown
................................... + Magdalena Haenel b: Jan. 10, 1828 in Riedseltz m: Jan. 27, 1853
............................... 4 Regina Kuebler b: April 26, 1827 in Riedseltz d: Oct. 30, 1828 in Riedseltz
............................... 4 Regina Kuebler b: May 7, 1829 in Riedseltz d: Aug 14, 1834 in Riedseltz
............................... 4 Sebastian Kuebler b: Nov. 18, 1833 in Riedseltz d: unknown
................................... + Magdalena Huebsch b: June 22, 1833 in Riedseltz m: June 14, 1856
................. 3 Michael Kuebler b: March 29, 1793 in Riedseltz d: Sept. 29, 1838 in Riedseltz
..................... + Katharina Heintz b: Aug. 25, 1795 in Riedseltz m: Feb. 15, 1819 d: July 6, 1830
............................... 4 Michael Kuebler b: Nov. 21, 1819 in Riedseltz d: Nov. 28, 1854 in Riedseltz
................................... + Katharina Grimm b: Jan. 6, 1816 in Riedseltz m: May 26, 1843 d: unknown
............................... 4 Jacob Kuebler b: Dec. 9, 1821 in Riedseltz d: unknown
................................... + Barbara Lux b: Nov. 30, 1823 in Riedseltz m: Nov. 22, 1843 d: unknown
........................................... 5 Jacob Kuebler b: Dec. 1847 in Riedseltz d: 19 Mar 1848 in Riedseltz
........................................... 5 Frantz Joseph Kuebler b: Dec. 1860 in Riedseltz d: Jan. 4, 1861
............................... 4 Katharina Kuebler b: Feb. 24, 1823 in Riedseltz d: unknown
................................... +Sebastian Eichenlaub b: Nov. 17, 1822 in Riedseltz m: May 7, 1846 d: unknown
........................................... 5 Katharina Eichenlaub b: March 19, 1847 in Riedseltz d: unknown
..............................................+ Sebastian Grimm b: Oct. 17, 1846 in Riedseltz d: unknown
...................................................... 6 Marie Catherine Grimm b: March 18, 1877 in Riedseltz d: unknown
...................................................... 6 Alois Grimm in Riedseltz b: May 22, 1879 d: Feb. 12, 1882
...................................................... 6 Joseph Grimm b: Feb. 5, 1882 in Riedseltz d: unknown
...................................................... 6 Alois Grimm b: June 12, 1883 in Riedseltz d: unknown
...................................................... 6 Marie Caroline Grimm b: Dec. 6, 1885 in Riedseltz d: unknown
...................................................... 6 Elisabeth Grimm b: April 16, 1888 in Riedseltz d: unknown
........................................... 5 Maria Dorothy Eichenlaub b: Abt. 1855 d: Jan. 5, 1858 in Riedseltz
........................................... 5 Sebastian Eichenlaub b: July 1861 in Riedseltz d: July 1861 in Riedseltz
............................... 4 Joseph Kuebler b: Dec. 19, 1827 in Riedseltz d: unknown
................................... + Katharina Weisbeck b: April 11, 1832 in Riedseltz m: Feb. 9, 1854 d: unknown
................. 3 Margaretha Kuebler b: Feb. 2, 1795 in Riedseltz d: Jan. 29, 1848 in Riedseltz
..................... + Michael Huebsch b: July 11, 1800 in Riedseltz m: May 9, 1825 d: March 11, 1860
............................... 4 Michael Huebsch b: Sept. 16, 1831 in Riedseltz d: Feb. 25, 1833 in Riedseltz
............................... 4 Maria Katharina Huebsch b: March 25, 1834 in Riedseltz d: April 11, 1834 in Riedseltz
............................... 4 Maria Eva Huebsch b: Sept. 8, 1835 in Riedseltz d: March 19, 1892 in Riedseltz
................................... + Nicholaus Berst b: June 13, 1831 m: June 23, 1852 d: March 19, 1892
................. 3 Katharina Kuebler b: Abt. 1798 in Riedseltz m: April 19, 1825 d: Dec. 4, 1849 in Riedseltz
..................... + Sebastian Eichenlaub b: June 29, 1795 in Riedseltz d: Dec. 21, 1845 in Riedseltz
............................... 4 Lorenz Eichenlaub b: May 8, 1826 in Riedseltz d: unknown
................................... + Dorothea Ohmann b: Dec. 15, 1829 m: Oct. 5, 1847 d: unknown
............................... 4 Joseph Eichenlaub b: Aug. 29, 1828 in Riedseltz d: 1902 in Riedseltz
................................... + Maria Eva Lustig b: April 13, 1833 m: Oct. 5, 1855 d: Jan. 20, 1910
................................... [click here for more information on this family line.]
............................... 4 Katharina Eichenlaub b: Sept. 28, 1830 in Riedseltz d: Abt. 1833 in Riedseltz
............................... 4 Michael Eichenlaub b: July 18, 1833 in Riedseltz d: unknown
................................... + Elisabetha Wendecker b: Nov. 8, 1835 m: Jan. 24, 1860 d: unknown
............................... 4 Johann Baptist Eichenlaub b: July 8, 1836 in Riedseltz d: unknown
................................... + Elisabetha Schmitt b: March 19, 1837 m: Feb. 8, 1859 d: unknown
............................... 4 Johann Eichenlaub b: Oct. 1840 in Riedseltz d: Dec. 12, 1840 in Riedseltz
............................... 4 Katharina Eichenlaub b: June 8, 1843 in Riedseltz d: unknown
................................... + Alois Grimm b: Feb. 28, 1843 m: Nov. 16, 1865 d: unknown
........................................... 5 Katharina Grimm b: Oct. 11, 1867 d: Oct. 16, 1867 in Riedseltz
........................................... 5 (unknown) Grimm b: Jan. 1, 1869 d: Jan. 1, 1869 in Riedseltz
........................................... 5 (female) Grimm b: Feb. 6, 1871 d: Feb. 6, 1871 in Riedseltz
........................................... 5 Marie Catherine Grimm b: April 30, 1872 d: unknown
........................................... 5 Alois Peter Grimm b: 16 July 16, 1874 in Riedseltz d: unknown
........................................... 5 Sebastien Grimm b: Nov. 12, 1875 d: unknown
........................................... 5 (male) Grimm b: March 12, 1878 d: March 12, 1878 in Riedseltz
........................................... 5 Francois Joseph Grimm b: June 3, 1880 d: June 5, 1880 in Riedseltz
........................................... 5 George Michel Grimm b: Sept. 24, 1881 d: unknown
........................................... 5 Marie Elisabeth Grimm b: Nov. 7, 1883 d: April 3, 1888 in Riedseltz
........................................... 5 Francois Joseph Grimm b: March 11, 1885 d: Sept. 2, 1885 in Riedseltz
................. 3 Johann Kuebler b: Sept. 4, 1800 in Riedseltz d: Feb. 08, 1851 in Riedseltz
..................... + Magdalena Kolb b: April 29, 1804 in Riedseltz d: Dec. 30, 1835 in Riedseltz
............................... 4 Johann Kuebler b: June 19, 1825 in Riedseltz d: May 12, 1831 in Riedseltz
............................... 4 Maria Anna Kuebler b: Sept. 27, 1827 in Riedseltz m: Dec. 16, 1847
................................... + Frantz Joseph Clement Kuebler b: Nov. 22, 1822 d: unknown
........................................... 5 Frantz Kubler b: Abt. 1850 d: July 27, 1852 in Riedseltz
........................................... 5 Frantz Kubler b: Sept. 1855 d: Oct. 28, 1855 in Riedseltz
............................... 4 Elisabetha Kuebler b: Oct. 3, 1829 in Riedseltz d: March 1, 1830 in Riedseltz
............................... 4 Magdalena Kuebler b: Feb. 10, 1831 Riedseltz d: Aug 20, 1846 in Riedseltz
............................... 4 Regina Kuebler b: May 6, 1833 in Riedseltz d: unknown
............................... 4 Johann Kuebler b: Dec. 28, 1835 in Riedseltz d: Dec. 30, 1835 in Riedseltz
................. 3 Frantz Kuebler b: June 5, 1803 in Riedseltz d: Feb. 7, 1864 in Riedseltz
..................... + Anna Maria Kolb b: May 25, 1802 in Riedseltz d: Feb. 8, 1839 in Riedseltz
............................... 4 Frantz Joseph Clement Kuebler b: Nov. 22, 1822 d: unknown
................................... + Maria Anna Kuebler b: Sept. 27, 1827 in Riedseltz m: Dec. 16, 1847
........................................... 5 Frantz Kubler b: Abt. 1850 d: July 27, 1852 in Riedseltz
........................................... 5 Frantz Kubler b: Sept. 1855 d: Oct. 28, 1855 in Riedseltz
............................... 4 Maria Anna Kuebler b: Aug. 3, 1824 d: unknown
................................... + Franz Joseph Schmitt b: Aug. 2, 1823 m: June 18, 1849 d: unknown
............................... 4 Regina Kuebler b: Dec. 21, 1828 in Riedseltz d: Aug. 16, 1834 in Riedseltz
............................... 4 Katharina Kuebler b: March 8, 1833 in Riedseltz d: Nov. 24, 1833 in Riedseltz
............................... 4 Joseph Kuebler b: May 28, 1835 in Riedseltz d: unknown
............................... 4 Regina Kuebler b: April 1838 in Riedseltz d: Oct. 21, 1838 in Riedseltz
................. 3 Joseph Kuebler b: June 6, 1806 in Riedseltz m: 1828 d: Aug. 29, 1832 in Riedseltz
..................... + Margaretha Kolb b: Sept. 1, 1805 in Riedseltz d: June 7, 1830 in Riedseltz
............................... 4 Johann Kuebler b: Aug. 27, 1829 in Riedseltz d: unknown
................. 3 Barbara Kuebler b: Sept. 16, 1809 in Riedseltz, Alsace d: 1809 in Riedseltz
........ 2 Peter Kolb b: Abt. July, 1768 in Riedseltz d: July 17, 1768 in Riedseltz
........ 2 Johan Kolb b: Nov. 7, 1771 in Riedseltz d: Feb. 18, 1831 in Riedseltz
............+ Katherina Buckenmeyer b: Abt. 1765 in Riedseltz d: unknown
......... *2nd Wife of Johan Kolb:
............+ Anna Katherina Diebold b: Nov. 19, 1781 m: June 2, 1808 d: Jan. 19, 1856 in Riedseltz
........ 2 Jacob Kolb b: Aug. 7, 1773 in Riedseltz d: May 3, 1846 in Riedseltz
............+ Elisabetha Herrmann b: 1774 in Clebourg, France d: April 5, 1842 in Riedseltz
........ 2 Peter Kolb b: Abt. 1787 in unknown d: Oct. 24, 1872 in unknown
............+ Margaretha Braa b: March 15, 1789 in Riedseltz m: May 4, 1809 d: Jan. 1, 1856 in Riedseltz
................. 3 Barbara Kolb b: Oct. 9, 1811 in Riedseltz d: Dec. 10, 1857 in Riedseltz
..................... + Jacob Wendecker b: June 17, 1810 in Riedseltz d: Dec. 4, 1846 in Riedseltz
............................... 4 Jacob Wendecker b: 1837 d: 1839
............................... 4 Katharina Wendecker b: 1839 d: unknown
................................... + Johann Huebsch b: 1835 d: unknown
............................... 4 Jacob Wendecker b: 1841 d: 1842
............................... 4 Sebastian Wendecker b: 1843 d: unknown
............................... 4 Jacob Wendecker b: 1845 d: 1858
................. 3 Peter Kolb b: Oct. 25, 1813 in Riedseltz d: in USA
..................... + Theresa Buckenmeyer b: Nov. 27, 1813 in Riedseltz d: in USA
.................. [see below for additional information on this line]
................. 3 Katherina Kolb b: Dec. 8, 1815 in Riedseltz d: Dec. 22, 1815 in Riedseltz
................. 3 Margaretha Kolb b: Dec. 20, 1816 in Riedseltz d: April 6, 1818 in Riedseltz
................. 3 Katherina Kolb b: Jan. 15, 1819 in Riedseltz d: unknown
..................... + Johann Michael Bohn b: Dec. 23, 1816 in Riedseltz d: Dec. 27, 1865 in Riedseltz
............................... 4 Johann Bohn b: Nov. 6, 1840 in Riedseltz d: unknown
................. 3 Elisabetha Kolb b: May 7, 1821 in Riedseltz d: unknown
................. 3 Magdalena Kolb b: Sept. 28, 1823 in Riedseltz d: unknown
................. 3 Elisabetha Kolb b: 1824 in Riedseltz m: 1847 in Buffalo, New York d: in USA
..................... + Jacob Schweiger(t) b: 1825 m: 1847 in Buffalo, New York d: in USA
............................... 4 Joseph Schweiger b: 1847 in New York City, New York d: in USA
............................... 4 Andrew Schweiger b: 1848 in New York City, New York d: in USA
............................... 4 Maria Anna Schweiger b: 1850 in New York City, New York d: in USA
................. 3 Margaretha Kolb b: Feb. 2, 1826 in Riedseltz d: unknown
..................... + Johann Peter Stadtler/Stadler b: July 22, 1827 in Riedseltz d: unknown
................. 3 Maria Eva Kolb b: Feb. 2, 1826 in Riedseltz d: March 29, 1826 in Riedseltz
................. 3 Joseph Kolb b: April 4, 1828 in Riedseltz d: Oct. 31, 1879 in Riedseltz
..................... + Maria Eva Kolb b: Dec. 24, 1830 in Riedseltz d: March 23, 1876 in Riedseltz
................. 3 Jacob Kolb b: June 7, 1830 in Riedseltz d: Oct. 31, 1863 in Riedseltz
........ 2 Joseph Kolb b: March 28, 1778 in Riedseltz d: July 24, 1813 in Riedseltz
............+ Regina Lux b: 1774-1780 in Schweigen, Riedseltz d: Jan. 14, 1806 in Riedseltz
................. 3 Margaretha Kolb b: Aug. 31, 1795 in Riedseltz d: June 7, 1830 in Riedseltz
..................... + Joseph Kuebler b: June 6, 1806 in Riedseltz d: August 29, 1832 in Riedseltz
................. 3 Katharina Kolb b: June 21, 1803 in Riedseltz d: June 26, 1803 in Riedseltz
................. 3 Magdalena Kolb b: April 29, 1804 in Riedseltz d: Dec. 30, 1835 in Riedseltz
..................... + Johann Kuebler b: Sept. 4, 1800 in Riedseltz d: Feb. 8, 1851 in Riedseltz
.................... *2nd Husband of Magdalena Kolb:
..................... + Frantz Anton Kolb b: 1805 in Riedseltz d: Nov. 19, 1837 in Riedseltz
................. 3 Margaretha Kolb b: Sept. 1, 1805 in Riedseltz d: unknown
......... *2nd Wife of Joseph Kolb:
............+ Maria Barbara Kopp b: Dec. 25, 1785 in Riedseltz d: March 24, 1856 in Riedseltz
................. 3 Joseph Kolb b: June 3, 1807 in Riedseltz d: Feb. 27, 1843 in Riedseltz
..................... + Maria Eva Becker b: Dec. 15, 1807 in Riedseltz d: June 5, 1869 in Riedseltz
................. 3 Katharina Kolb b: March 18, 1809 in Riedseltz d: 1809 in Riedseltz
................. 3 Johann Kolb b: Feb. 24, 1810 in Riedseltz m: April 16, 1842 d: unknown
..................... + Elisabetha Kopp b: Sept. 13, 1813 in Riedseltz d: July 22, 1891 in Sheldon, NY
................. 3 Elisabetha Kolb b: Sept. 29, 1812 in Riedseltz d: June 12, 1850 in Riedseltz
..................... + Frantz Joseph Becker b: March 13, 1811 in Riedseltz d: Jan. 12, 1856 in Riedseltz
............................... 4 Joseph Becker b: Abt. Jan. 1841 in Riedseltz d: Oct. 29, 1841 in Riedseltz
........ 2 Georges Kolb b: Sept. 5, 1781 d: Sept. 8, 1857 (witness: Michael Huebsch, son-in-law)
............+ Margaretha Heintz b: Dec. 5, 1785 in Riedseltz d: Feb. 13, 1834 in Riedseltz
................. 3 Jacob Kolb b: Abt. 1806 in Riedseltz d: unknown
................. 3 Maria Eva Kolb b: March 30, 1808 in Riedseltz d: Feb. 2, 1874 in Riedseltz
..................... + Michael Huebsch b: Dec. 4, 1801 in Riedseltz d: June 15, 1870 in Riedseltz
............................... 4 Marguerite Huebsch b: 31 Mar 1828 in Riedseltz, France d: 30 Oct 1875 in Riedseltz
....................... +Francois Joseph Becker m: 29 May 1852 in Riedseltz
............................... 4 Marie Eve Huebsch b: Feb. 10, 1830 in Riedseltz d: Feb. 18, 1908 in Riedseltz
................................... + Joseph Stephan m: 28 May 1858 in Riedseltz, France
............................... 4 Madeleine Huebsch b: Oct. 1, 1832 in Riedseltz d: unknown
............................... 4 Jean Huebsch b: Jan. 31, 1835 in Riedseltz d: 22 Jun 1915 in Riedseltz
................................... + Catherine Wendecker m: April 5, 1866 in Riedseltz
........................................... 5 Catherine Huebsch b: 11 Oct 1866 in France
........................................... 5 Jean Huebsch b: 02 Nov 1868 in Riedseltz d: unknown
.............................................+ Elisabeth Hummel m: 02 Nov 1896 in Riedseltz
.................................................... 6 Albert Huebsch b: 12 Feb 1901 in Riedseltz d: 18 Mar 1992 in Riedseltz
.......................................................+ Madeleine Heintz m: 7 Nov 1935 in Riedseltz
................................................................ 7 Marie Elise Huebsch b: 10 Aug 1936 in Riedseltz d: unknown
....................................................................+ Joseph Charles Eugène Eichenlaub m: 10 Jul 1964 in Riedseltz d: unknown
................................................................ 7 Albert Emile Huebsch b: 11 Jul 1941 in Riedseltz d: unknown
....................................................................+ Marie Marthe Stroh m: 13 Oct 1967 in La Wantzenau
................................................................ 7 Joseph Michel Huebsch b: 07 Mar 1944 in Riedseltz d: unknown
....................................................................+ Marie Madeleine Fritz m: 05 Jul 1968 in Niederlauterbach
.................................................... 6 Marie Emilie Huebsch b: 06 Aug 1902 in Riedseltz
.......................................................+ Francois Joseph Schmitt m: 07 Jan 1929 in Riedseltz
.................................................... 6 Elisaberth Huebsch b: 25 Mar 1910 in Riedseltz
.......................................................+ Emile Courtade m: 07 Nov 1935 in Riedseltz
........................................... 5 Joseph Huebsch b: 04 Dec 1869 in Riedseltz d: unknown
........................................... 5 Jacques Huebsch b: 23 Dec 1870 in Riedseltz d: unknown
........................................... 5 Pierre Huebsch b: 04 Jun 1873 in Riedseltz d: unknown
........................................... 5 Henri Huebsch b: 12 Sep 1874 in Riedseltz d: unknown
........................................... 5 Catherine Huebsch b: 29 Aug 1875 in Riedseltz d: unknown
........................................... 5 Francois Joseph Huebsch b: 03 Apr 1877 in Riedseltz d: unknown
............................................ + Madeleine Guckert m: 18 May 1900 in Riedseltz, Wissembourg, Bas-Rhin, Alsace, France
........................................... 5 Laurent Huebsch b: 27 Nov 1878 in Riedseltz d: 25 Jan 1952 in Thionville
........................................... 5 Pierre Huebsch b: 24 Mar 1881 in Riedseltz d: 20 Feb 1926 in Riedseltz
.............................................+ Marie Anne Guth m: 05 May 1912 in Riedseltz
.................................................... 6 Marie Philomene Huebsch b: 24 Mar 1913 in Riedseltz d: 02 Apr 1916 in Riedseltz
.................................................... 6 Joseph Laurent Huebsch b: 05 Mar 1914 in Riedseltz d: unknown
.......................................................+ Yvonne Jeanne Anne Kolb m: 11 Apr 1947 in Soultz-sous-Foroets
............................... 4 Michel Huebsch b: 09 Jun 1837 in Riedseltz d: 27 Feb 1840 in Riedseltz
............................... 4 Jacques Huebsch b: 31 Aug 1839 in Riedseltz, France d: 16 Oct 1912 in Riedseltz
................................... + Theresa Diebold m: 02 Oct 1872 in Riedseltz
........................................... 5 Emile Henri Huebsch b: 01 Apr 1874 in Riedseltz d: 08 Feb 1875 in Riedseltz
........................................... 5 Marie Virginie Huebsch b: 24 Sep 1878 in Riedseltz d: unknown
.............................................+ Georges Schaaf
........................................... 5 Edouard Huebsch b: 11 May 1880 in Riedseltz d: 27 Feb 1960 in Wissembourg
.............................................+ Marie Madeleine Hollender m: 11 May 1925 in Hohwiller
.................................................... 6 Albert Huebsch b: 1920 in Birlenbach
.................................................... 6 Emile Huebsch b: 1920 in Birlenbach d: 26 Jun 2002 in Marienthal
.......................................................+ Josephine Moog
.................................................... 6 Anna Huebsch
.................................................... 6 Edouard Huebsch
.................................................... 6 Henri Huebsch
.................................................... 6 Lina Huebsch
.................................................... 6 Marie Huebsch
........................................... 5 Anne Regine Huebsch b: 15 Dec 1881 in Riedseltz, France d: 18 Apr 1941 in Riedseltz
.............................................+ Emile Kolb m: 06 Jul 1905 in Riedseltz
........................................... 5 Eugene Huebsch b: 15 Sep 1883 in Riedseltz d: 29 Sep 1883 in Riedseltz
........................................... 5 Eugene dit Kieferugene Huebsch b: 30 Jul 1885 in Riedseltz, France d: 08 Sep 1977 in Wissembourg
.............................................+ Marie Madeleine Urlacher m: 15 May 1916 in Soultz-sous-Foroets
.................................................... 6 Marie Thérèse dit Kieferthérèse Huebsch b: 10 Dec 1916 in Schwabwiller d: 25 Nov 1994 in Riedseltz
.......................................................+ Sebastien dit S'Mannelbajean Lustig m: 09 May 1941 in Riedseltz, Wissembourg, Bas-Rhin, Alsace, France
.................................................... 6 Josephine dit Kieferphine Huebsch b: 24 Mar 1918 in Schwabwiller d: 08 Sep 2010 in Haguenau
...................................................... + Gustave Anthony m: 01 May 1942 in Riedseltz
......................................................... *2nd Husband of Josephine dit Kieferphine Huebsch:
...................................................... + Georges Grimm m: 29 Nov 1946 in Riedseltz
.................................................... 6 Elise Huebsch b: 24 Jul 1920 in Riedseltz d: 09 Oct 1997 in Saint-Quirin
.......................................................+ Joseph Renoe Wolfersberger m: 29 Oct 1943 in Riedseltz
........................................... 5 Therese Huebsch b: 18 Apr 1887 in Riedseltz d: 20 Jul 1962 in Strasbourg
.............................................+ Fridolin Dierstein
........................................... 5 Marie Catherine Huebsch b: 11 Feb 1893 in Riedseltz d: 12 May 1959 in Paris
.............................................+ Louis Celestin Auguste Mariotte m: 24 Dec 1938 in Paris
................... 4 Pierre Huebsch b: 29 Dec 1841 in Riedseltz d: 11 Apr 1908 in Riedseltz
....................... + Elisabeth Heintz m: 06 Jun 1871 in Riedseltz
............................. 5 Pierre Huebsch b: 26 Mar 1872 in Riedseltz, Wissembourg, Bas-Rhin, Alsace, France
............................. 5 Madeleine Huebsch b: 21 Jun 1874 in Riedseltz, France d: 08 May 1877
............................. 5 Henri Huebsch b: 03 Nov 1876 in Riedseltz d: unknown
............................. 5 Jacques Huebsch b: 04 Dec 1878 in Riedseltz d: 13 Apr 1932 in Riedseltz
............................. 5 Joseph Huebsch b: 09 Sep 1881 in Riedseltz d: 12 Jan 1960 in Riedseltz
.............................................+ Anne Francoise Keisser m: 02 Feb 1913 in Riedseltz
.................................................... 6 Joseph Huebsch b: 13 Sep 1908 in Riedseltz d: unknown
.......................................................+ Irma Catherine Haller m: 01 May 1934 in Schorbach
.................................................... 6 Alphonse Joseph Huebsch b: 11 Aug 1914 in Riedseltz d: 26 Apr 1987 in Wissembourg
.......................................................+ Marthe Marguerite Samtmann m: 22 May 1939 in Wingen
................................................................ 7 Alphonse Huebsch b: 1939 in France d: unknown
................................................................ 7 Joseph Huebsch b: 26 Mar 1942 in Riedseltz d: 2007 in Selestat
....................................................................+ Christiane Alice Kolb m: 29 Nov 1963 in Riedseltz
..................................................................................... 8 Daniele Marie-Anne Huebsch b: 17 Apr 1965 in Wissembourg d: 17 Apr 1965 in Strasbourg
....................................................................*2nd Wife of Joseph Huebsch:
....................................................................+ Martine Eliane Strasser m: 27 Jul 1973 in Selestat
................................................................ 7 Marie Anne Huebsch b: 09 Jan 1946 in Riedseltz
...................................................................+ Francis Roger Boes m: 30 Mar 1974 in Strasbourg
................................................................ 7 Monique Huebsch b: 04 May 1948 in Riedseltz
....................................................................+ Jean Marie Paul Sittler m: 31 Jul 1981 in Reichshiffen
................................................................ 7 Marie Bernadette Huebsch b: 04 Feb 1954 in Riedseltz
....................................................................+ Martin Pierre Roehrig m: 04 Feb 1978 in Riedseltz
................................................................ 7 Antoine Huebsch
.................................................... 6 Francoise Huebsch b: 27 Dec 1920 in Riedseltz d: 23 Feb 1963 in Brumath
.......................................................+ Georges Vogel m: 22 Jan 1943 in Riedseltz
........................................... 5 Emile Huebsch b: 16 Jul 1884 in Riedseltz d: unknown
........................................... 5 Aloyse Huebsch b: 22 Dec 1886 in Riedseltz d: unknown
........................................... 5 Elisabeth Huebsch b: 06 Apr 1888 in Riedseltz d: unknown
............................... 4 Laurent Huebsch b: 05 Jul 1844 in Riedseltz d: 08 Mar 1917 in Riedseltz
................................... + Marguerite Stubel m: 04 Oct 1879 in Riedseltz
........................................... 5 Joseph Huebsch b: 17 May 1880 in Riedseltz d: 16 May 1960 in Hoerdt
........................................... 5 Anne Marie Huebsch b: 18 Mar 1882 in Riedseltz d: 21 Jan 1973 in Haguenau
.............................................+ Michel Burckhardt m: 10 Sep 1912 in Riedseltz
........................................... 5 Marguerite Huebsch b: 08 May 1884 in Riedseltz d: unknown
........................................... 5 Alphonse dit de Mohler Huebsch b: 14 Apr 1886 in Riedseltz, France d: 22 Feb 1957 in Wissembourg
.............................................+ Catherine Heisser m: 05 Jan 1925 in Riedseltz
.................................................... 6 Yvonne Huebsch b: 19 May 1925 in Wissembourg d: 1 Nov 1956 in Haguenau
.......................................................+ Joseph Stoll
........................................... 5 Jacques Huebsch b: 10 Mar 1890 in Riedseltz d: unknown
........................................... 5 Marie Catherine Huebsch b: 13 Aug 1891 in Riedseltz d: 03 May 1954 in Saint Ouen
.............................................+ Willy Hoeschler m: 16 Feb 1914 in Neunkirchen-Les-Sarreguemines
........................................... 5 Laurent Huebsch b: 01 Apr 1894 in Riedseltz, France d: 23 Dec 1970 in Crosne
.............................................+ Alice Germaine Haniel m: 29 May 1923 in Paris
........................................... 5 Jacques Huebsch b: 21 Oct 1895 in Riedseltz d: unknown
........................................... 5 Elisabeth Huebsch b: 26 Apr 1897 in Riedseltz d: unknown
........................................... 5 Elisabeth Huebsch b: 25 Aug 1898 in Riedseltz d: in Merlebach
..............................................+ Joseph Jean Baptiste Crouvoisier m: 22 May 1923 in Riedseltz
............................... 4 Heinrich "Henri" Huebsch b: 1846 in Riedseltz d: 20 Nov 1914 in Riedseltz
................................... + Barbara Lustig b: Dec. 11, 1853 in Riedseltz d: 12 Jun 1881 m: Sept. 2, 1875 d: unknown
........................................... 5 Magdalena Huebsch b: 21 Jun 1876 in France
........................................... 5 Albert Huebsch b: 03 Apr 1878 in Riedseltz, Alsace, France
........................................... 5 Emil Huebsch b: 30 May 1881 in Riedseltz, France d: 13 Jun 1881 in Riedseltz
................................*2nd Wife of Heinrich Henri Huebsch:
................................... + Barbe Heideger m: Feb. 6, 1883 in Riedseltz, France
........................................... 5 Marie Barbe Huebsch b: 01 Feb 1884 in Riedseltz d: 21 Nov 1962 in Mulhouse
.............................................+ Emile Adolphe Schmidlin
........................................... 5 Catherine Huebsch b: 22 Mar 1889 in Riedseltz, France d: 18 Apr 1957 in Riedseltz
.............................................+ Michel Wagner m: 19 Dec 1916 in Riedseltz, Wissembourg, Bas-Rhin, Alsace, France
............................... 4 Michel Huebsch b: Oct. 7, 1849 in Riedseltz France d: Nov. 7, 1851 in Riedseltz
................. 3 Joseph Kolb b: Jan. 14, 1811 in Riedseltz d: Jan. 10, 1854 in Riedseltz
..................... + Katharina Kolb b: Dec. 14, 1811 in Riedseltz m: Jan. 1837 d: Aft. 1854 in USA
............................... 4 Jean Kolb b: Sept. 3, 1849 in Riedseltz d: May 1, 1938 in Riedseltz
................................... + Marie Josephine Wurth b: Apr. 20, 1853 in Riedseltz m: Dec. 28, 1882 d: July 3, 1917
........................................... 5 Odile Kolb b: Nov. 28, 1883 d: Nov. 3, 1963 in Riedseltz
.............................................+ Alois Rollett b: June 17, 1886 in Wittersheim d: Oct. 18, 1918
.................................................... 6 Aloise Josephine Rollet
.......................................................+ Henri George Schmaltz
.................................................... 6 Antoine Jean Rollet
.......................................................+ Germaine Heinrich
........................................... 5 Charles Kolb b: unknown d: in Ingolsheim, France
........................................... 5 Joseph Kolb
.............................................+ Marie Canti
........................................... 5 Catherine Kolb
.............................................+ Pierre Heintz
........................................... 5 Josephine Kolb
.............................................+ Camille Jory
............................... 4 Jacques Kolb b: Nov. 9, 1837 in Riedseltz d: unknown
................................... + Catherine Huebsch b: July 18, 1838 in Riedseltz d: 1881-1933
............................... 4 Rene Kolb b: Nov. 9, 1840 in Riedseltz d: unknown
............................... 4 Joseph Kolb b: Jan. 15, 1843 in Riedseltz d: 1881-1934
................................... + Therese Fath b: Feb. 19, 1837 in Riedseltz m: Nov. 7, 1872 d: 1880-1932
........................................... 5 Joseph Kolb b: 1873 in Riedseltz d: unknown
........................................... 5 Victor Kolb b: 1874 in Riedseltz d: 1881 in Riedseltz
........................................... 5 Therese Kolb b: 1875 in Riedseltz d: 1955 in Riedseltz
........................................... 5 Celestine Kolb b: 1878 in Riedseltz d: unknown
............................... 4 Catherine Kolb b: March 18, 1846 m: July 2, 1872 d: 1844-1935
................................... + Ferdinand Kolb b: March 11, 1845 in Riedseltz d: 1844-1935
........................................... 5 Francois Antoine Kolb b: June 14, 1873 in Riedseltz d: unknown
........................................... 5 Marie Anne Kolb b: Aug. 31, 1875 in Riedseltz d: unknown
........................................... 5 Alois Kolb b: 1876 in Riedseltz d: 1960 in Riedseltz
........................................... 5 Jacques Kolb b: July 2, 1879 in Riedseltz d: unknown
........................................... 5 Marie Kolb b: Jan. 21, 1881 in Riedseltz d: unknown
............................... 4 Marguerite Kolb b: 1849 in Riedseltz d: 1881-1943 in Riedseltz
................................... + Joseph Bauer b: Aug. 12, 1846 in Riedseltz d: Bef. July 1879
............................... 4 George Kolb b: 1851 in Riedseltz d: 1851 in Riedseltz
............................... 4 George Kolb b: 1851 in Riedseltz d: 1853 in Riedseltz
................. 3 Michael Kolb b: Aug. 23, 1813 in Riedseltz d: Jan. 17, 1833 in Riedseltz
................. 3 Peter Kolb b: Jan. 14, 1814 in Riedseltz d: Aug. 15, 1842 in Riedseltz
..................... + Katharina Roos b: May 3, 1819 in Riedseltz d: Oct. 12, 1876 in Riedseltz
............................... 4 Valentin Kolb b: 1842 in Riedseltz d: 1920
................................... + Anne Marie Kolb b: 1850 in Riedseltz d: 1919
........................................... 5 Jacob J. Kolb b: 1883 in Buffalo, NY d: 1957 in Buffalo, NY
.............................................+ (unknown) (unknown)
.................................................... 6 Frank John Kolb b: Aug. 5, 1912 in Buffalo, NY d: April 7, 1963 in Buffalo, NY
.......................................................+ Verna Fredericka Young b: Oct. 20, 1914 d: unknown
............................................................ 7 Karen Lee Kolb b: April 14, 1948 in Buffalo, NY
............................................................ 7 Jon Andrew Kolb b: Nov. 18, 1955 in Buffalo, NY
................. 3 Katharina Kolb b: Jan. 31, 1817 in Riedseltz d: unknown
..................... + George Michael Streicher b: March 16, 1815 in Riedseltz d: unknown
................. 3 Margaretha Kolb b: Sept. 19, 1819 in Riedseltz d: unknown
..................... + Joseph Heckel b: Jan. 26, 1817 in Riedseltz d: unknown
................. 3 Regina Kolb b: Abt. 1821 in Riedseltz d: Nov. 30, 1846 in Riedseltz
................. 3 Elisabeth Kolb b: Oct. 12, 1821 in Riedseltz, France d: unknown
................. 3 Theresa Kolb b: Oct. 16, 1825 in Riedseltz d: Nov. 16, 1841 in Riedseltz
........ 2 Elisabeth Kolb b: in Riedseltz d: 1794 in Riedseltz, Alsace, France
-----------



Descendants of Peter Kolb (born 1813)


1 Peter Kolb b: Oct. 25, 1813 in Riedseltz m: May, 1839 in Riedseltz d: 1850-1855 in USA
.. + Therese Buckenmeyer b: Nov. 27, 1813 in Riedseltz d: Aft. 1860 in Milwaukee, WI
--
Notes on Peter and Theresa Kolb:
.............Pierre Kolb, born in Riedseltz, was a cultivator by occupation. His birth record in a civil record and is written in French. The witnesses to his birth were his uncle, Peter Schmitt (age 22, laborer), and Joseph Bohn (age 40, laborer), whose relationship with the family is unknown at present.
.............The marriage record of Peter Kolb is a civil record and was written in French. The marriage took place on June 13, 1838 in Riedseltz. Witnesses to the marriage were Peter Schmitt (age 46, cultivator, uncle of Peter, husband of Regina Louisa Braa), George Kolb (age 55, uncle of Peter Kolb, husband of Margaretha Heintz), Jacob Buckenmeyer (age 38, cultivator, brother of Theresa, husband of Mary Huebsch), and Jacob Huebsch (age 38, "beau frere d'espouse"/brother-in-law of Theresa and husband of Elisabetha Buckenmeyer).
.............The Kolb family emigrated to New York in 1846 and settled in Sheldon, Wyoming County, New York. Jacob and Maria Eva (Huebsch) Buckenmeyer emigrated with the Kolb family to New York. The Kolb family were original members of the Saint Cecilia's Catholic Church in Sheldon, where their children were baptized. It appears he passed away between the 1850 census and the 1855 Wisconsin census, where his wife appears.
--
........ 2 Jacob Kolb b: Feb. 3, 1839 in Riedseltz d: in Rochester, New York
............+ Theresa Ely
........ 2 Peter Kolb b: Jan. 27, 1841 in Riedseltz d: April 20, 1904 in WI
............+ Catherine (unknown) b: June 3, 1847 in Bayern, Germany d: March 21, 1880 in WI
......... *2nd Wife of Peter Kolb:
............+ Katharina Pecher b: Nov. 13, 1856 in Lesik, Czech Rep. m: Oct. 5, 1880 in Milwaukee, WI d: June 11, 1948 in WI
--
Notes on Peter Kolb:
.............Peter Kolb's birth record is a civil record and it is in French. The witnesses at his birth were Jacob (Jacques) Grimm (he was 40 years old and was a sharpentier/carpenter) and Paul (Peter) Kahn (he was 70 years old and was a commeseat). He was baptised in February, 1841 in Riedseltz. He, his parents (Peter and Theresa Kolb), his siblings, and the Buckenmeyer family emigrated to the United States in 1846. Emigration Records: Records of the Catholic Church in Riedseltz, Wiessembourg Canton, Bas-Rhin, Alsace, France, 1830-1846 (publication code 523.1) from the Ohio Genealogical Society Report, vol. 37:2 (Summer 1997), p. 83, by Robert E. Bettac contains the only listing of the immigration that I have been able to locate.
.............They settled in Sheldon, Wyoming County, New York. Wyoming County was a common place for the Riedseltz families to emigrate to, as the Stephan and Huebsch families also resided in Sheldon, New York. They attended St. Cecelia's Roman Catholic Church in Sheldon until moving away. After the 1850 Census, the next information we have on Peter Kolb is his Civil War information which lapses 11 years into the future.
.............On Oct. 16 1861, Peter was enlisted in the 22nd Regiment, of the Kentucky infantry, in Louisville, Jefferson Co., Kentucky. He was mistakenly enlisted as Peter Koll, a clear misspelling of the surname. He was mustered in on January 10, 1862 in Paintsville, Kentucky for a period of three years. He was a private and a volunteer in the infantry. His first pay check in the regiment was for $13.00 and was given to him for the one month period of October 11, 1861 to November 11, 1861. On July 11, 1863, he became ill with dysentary. He was discharged on a Surgeon's Certificate of Disability on July 24, 1864 at Morganza, Louisiana. He was admitted to the Marine USA General Hospital in New Orleans on September 2, 1863, and left the hospital on October 6, 1863. Additional Civil War data on Peter Kolb is available OnLine.
.............Peter Kolb shows up in the 1866 and 1867 City Directory for Milwaukee, Wisconsin, but he is not listed in the 1865 directory. Due to the Civil War, there was no City Directory for 1864. Sometime between 1864, when Kolb was mustered out of the 22nd Kentucky Infantry Regiment, and 1866, he settled in Milwaukee. The value of his home in 1870 was, according to Census data, $800. The directories are not entirely accurate, so it's possible he did arrive before 1865 despite that the City Directory does not list him in 1865. Between 1864 and 1870 he married Catherine (a native of Bavaria with an unknown maiden surname). Peter was a cooper by trade; he made/repaired barrels and casks. Catherine Kolb (Peter's first wife) was born on June 3, 1847 and died on March 21, 1880 at 1414 Galena Street in Milwaukee's 9th ward in a property that was said to be worth approximately $800 by 1880 standards.
.............Before her death, Peter and Catherine are had one son, Joseph Kolb, whose birthdate is unknown. Joseph died on July 27, 1886, as a child of at least six. He is buried at Calvary Cemetery in Milwaukee, Wisconsin in the same general location as his mother and father (section A, block 3, lot 75).
.............On October 5, 1880, Peter married Katharina Pecher, a native of Neudek (Lesik/Muehlberg) in Bohemia (now Czech Republic), who had emigrated in 1878 and was working as a housekeeper. The marriage was arranged. The 1870 Milwaukee City Directory lists Peter Kolb as residing at 1414 Galena Street, Milwaukee; his occupation is listed as a cooper and his employer is listed as Joseph Porth/Porthe. The 1890 Milwaukee City Directory lists Peter Kolb as a cooper living at 1414 Galena Street, Milwaukee. Peter Kolb was naturalized on February 11, 1874. The naturalization record lists his birthdate incorrectly as 1843, but states (correctly) that he entered the U.S. in July 1846. His naturalization witnesses/sponsors were M. Jensch and Andrew Croll (Milwaukee County Records, petition 1079, volume 2, page 360).
.............Peter Kolb died on April 20, 1904 of phthisis, a wasting away of the body that affects the lungs and causes progressive enfeeblement and loss of weight. More commonly, phthisis is known to be pulmonary tuberculosis and is caused by the wasting of tissues. Peter Kolb's second wife, Katharina Pecher Kolb, died on June 11, 1948 of natural at her home in Milwaukee, Wisconsin.
.............Peter, Catherine (first wife), Katharina (second wife), and Joseph (son of Peter and the first Catherine) are all buried at Calvary Cemetery at block 3, section A, lot 75. Catherine's grave is extremely large, with very old, Germanic script writing on it. Next to Peter Kolb's grave is a flag, in memory of his Civil War service. The family was Roman Catholic and attended St. Joseph's Church in Milwaukee.
.............Peter Kolb was said to have been 5 feet, 9 inches tall. He had a light complexion, blue eyes, brown hair, and by occupation (in 1860s) he was a laborer; he later become a cooper. He had a brown beard. He was buried April 23, 1904 at age 63 years, 2 months, 23 days. His last address was 500 - 16th Street in Milwaukee.
--
................. 3 Katherine "Katie" Kolb b: June 20, 1881 in WI d: Oct. 30, 1946 in WI
..................... + John Kopersky b: in Canada d: 1930s in Milwaukee, Wisconsin
............................... 4 Rose K. Kopersky b: March 30, 1916 in WI d: Feb. 10, 1995 in WI
................................... + Eugene Timmerman b: May 10, 1917 in WI d: Jan. 27, 1996 in WI
............................... 4 Delores Kopersky b: Oct. 26, 1919 in WI d: July, 1976 in WI
................................... + Robert Seng b: Jan. 9, 1924 in WI d: Jan., 1985 in WI
................. 3 Annie Kolb b: Aug. 19, 1883 in WI d: Jan. 14, 1971 in WI
................. 3 Joseph Kolb b. Abt. 1886 in Milwaukee, WI d: July 27, 1886 in Milwaukee, WI
................. 3 Peter Andrew Kolb b: Oct. 12, 1887 in WI d: April 9, 1941 in WI
..................... + Margaret Frank b: Jan. 15, 1891 KS d: April 21, 1935 in WI
--
Notes on Peter and Margaret Kolb:
.............Peter Kolb's occupation was, at various times, a clerk or a postal worker. In the 1930 Milwaukee City Directory, he is listed as residing at 1182 54th Street, Milwaukee. This location is no longer residential, but industrial. It is one block north of State Street, near where Hawley St. and State St. intersect. Between 1930 and 1935, he moved to a house at 41st Street between Clarke Street and Center Street. During this period the family attended St. Anne's Church. By 1940, Peter and his second wife Theresa Planer were living at 2930 North 54th Street, Milwaukee. The location is 1-1/2 blocks south of Burleigh and seven blocks east of Appleton Avenue on Milwaukee's West Side. St. Joseph's Church is just a few blocks away, as is Sherman Park.
.............Peter's mother Katherine is listed as residing at 819 37th Street. His brother Art Kolb is listed as living at 953 36th Street. Arthur Kolb's occupation is listed as a clerk at Vilter Manufacturing. Peter Kolb's sister, Anna, is listed as residing with her mother.
.............Peter Kolb was buried in April, 1941 at Holy Cross Cemetery in Milwaukee, Wisconsin. The burial location is block 41 east.
--
............................... 4 Russell Peter Kolb b: May 19, 1925 in Milwaukee, WI d: Aug. 10, 2009 in Milwaukee, WI
................................... + (private) Hirschboeck b: private
--
Notes on Russell Kolb:
.............Russell Kolb graduated from Marquette University with a BA in Business and a JD in Law on February 7, 1951. He attended St. Anne's Church, and later St. Joseph's Church in Wauwatosa. He was an honorable veteran of World War II.
--
........................................... 5 Candith Marie Kolb b: private
.............................................+ Joel Biterman b: private
........................................... 5 Colleen Marie Kolb b: private
.............................................+ Tom Twitchell b: private
........................................... 5 Kim Marie Kolb b: private
.............................................+ Dan Huberty b: Abt. 1958 d: 1995 in Vilas County, WI
..................... *2nd Wife of Peter Andrew Kolb:
..................... + Theresa H. Planer b: Sept. 24, 1891 in Milwaukee, WI d: May 19, 1976 in Milwaukee, WI
................. 3 Elizabeth Barbara "Lilly" Kolb b: July 14, 1891 in Milwaukee, WI d: Oct. 12, 1970 in Milwaukee, WI
..................... + John Carl Langer b: May 24, 1894 in Milwaukee, WI d: 1933 in Milwaukee, WI
.................... *2nd Husband of Elizabeth Barbara "Lilly" Kolb:
..................... + James Kinkade b: June 8, 1894 in St. Louis, Missouri d: Sept. 21, 1963 in Milwaukee, WI
................. 3 Arthur Adolph Joseph "Art" Kolb b: Aug. 17, 1894 in WI d: April 13, 1963 in Milwaukee, WI
..................... + Irene Ertl b: Oct. 13, 1897 in Wisconsin d: Nov. 24, 1991 in Milwaukee, WI
............................... 4 Arthur Lawrence Kolb b: July 2, 1928 in Milwaukee, WI d: Dec. 23, 2003 in Milwaukee, WI
................................... + Madonna Louise Trepanier b: private in Marshfield, WI
........................................... 5 Karen Kolb b: private
.............................................+ Tom Volbrecht b: private
.................................................... 6 Michele Volbrecht b: private
.......................................................+ Jason Miller b: private
.................................................... 6 Kristi Volbrecht b: private
.................................................... 6 David Volbrecht b: private
.................................................... 6 Nicole Volbrecht b: private
........................................... 5 Andrew Kolb b: private
........................................... 5 Mary Kolb b: private
.............................................+ Russell Borchardt b: private
.................................................... 6 Amanda Borchardt b: private
.................................................... 6 Daniel Borchardt b: private
........................................... 5 Kenneth Kolb b: private
........................................... 5 Tom Kolb b: private
........................................... 5 James Kolb b: private
........................................... 5 Mark Kolb b: private
.............................. 4 Bernice Irene Kolb b: private
................................... + James E. Schmitz b: Feb. 20, 1927 in Haywood, WI d: Aug. 9, 2006 in WI
........................................... 5 John J. Schmitz b: private
........................................... 5 Cathy Schmitz b: private
.............................................+ Jim Young b: private
........................................... 5 Carol Schmitz b: private
.............................................+ William Neuschaeffer b: private
........................................... 5 Bill Schmitz b: private
........................................... 5 Judy Schmitz b: private
.............................................+ Matthew Porter b: private
.................................................... 6 D.J. Porter b: private
.................................................... 6 Preston Porter b: private
.................................................... 6 Lexi Porter b: private
............................... 4 Robert F. Kolb b: private
................................... + Geraldine Seidenstricker b: private
........................................... 5 William Kolb b: private
........................................... 5 Dan Kolb b: private
........................................... 5 Tim Kolb b: private
........................................... 5 Mary Beth Kolb b: private
........ 2 Theresa Kolb b: April 22, 1843 in Riedseltz, France d: Bet. 1850 and 1855
........ 2 Lorenz Kolb b: Aug. 14, 1845 in Riedseltz, France d: Aft. 1855 in Milwaukee, Wisconsin
........ 2 Joseph Kolb b: Jan. 1847 in Sheldon, Wyoming County, NY d: in Milwaukee, Wisconsin
--
Notes on Joseph Kolb:
.............There is a Joseph Kolb listed as living in Milwaukee, Wisconsin's second ward in 1870. His age is listed as 22 and his approximate birthdate is listed as 1848 in the 1870 Census of Milwaukee County. His birth place is listed as New York. Is this Joseph Kolb the same Joseph Kolb that was born in Sheldon, New York in 1847?
--
........ 2 Catherine Kolb b: March 14, 1849 in Sheldon, Wyoming County, NY d: in Milwaukee, Wisconsin
............+ George Fausel b: 1845 in USA d: 1907 in Milwaukee, Wisconsin
................. 3 Fred George Fausel b: 1878 in Wisconsin d: unknown
................. 3 Clara Fausel b: 1879 in Wisconsin d: unknown
................. 3 Isabel Fausel b: 1881 in Wisconsin d: unknown
................. 3 Laura Fausel b: 1881 in Wisconsin d: unknown
................. 3 Irma Fausel b: 1885 in Wisconsin d: 1918 in Wisconsin
................. 3 George Fausel b: 1890 in Wisconsin d: unknown
............................... 4 Gordon Fausel
................................... + Verna Wallette
........................................... 5 Gordon Fausel b: private
........................................... 5 Charmaine Fausel b: private
........................................... 5 Cherylynn Fausel b: private