Johannes Andreas Eisenbarth,
notable 1st cousin of 7th great-grandfather



EARLY ORIGINS

The Eisenbarth (also spelled Eisenberth and Eisenbart) family originated in the city of Aalen in the Baden-Wurttemberg province's eastern-most district, Ostalbkreis. At the time it was part of the kingdom of Wurttemberg and the separate state sharing that same name. The first record of the family is in 1380.

Centrally located in the heart of Eastern Wurttemberg/Germany, Aalen is the gateway to the Swabian Jurassic Geological region, and only one hour's drive from Baden-Wuerttemberg's state capital Stuttgart. In 150 C.E. the largest Roman cavalry fort north of the Alps was located in Aalen. The city's founding was in 1240 by Emperor Frederic II and the declaration of the Imperial Town was in 1360. With its seven suburbs, the population is 67,000.

Only few kilometers away from Aalen is the suburb of Unterkochen, where the next generations of the Eisenbarth family resided. It is surrounded by high, wooded mountains and lies in one of the most beautiful and scenic ranges of the eastern Swabian mountains. Steep white rocks, deciduous forests and juniper heaths, as well as valley clefts with springs and green meadows shape the landscape.

Aalen and Unterkochen are in south-central Germany, about 45 minutes from Fremdingen, where my branch of the Eisenbarth family eventually settled. Fremdingen is north and east of Aalen.

Willi Eisenbarth, a cousin in Germany, has a complete compilation of the Eisenbarth family at the Association of Eisenbarths Worldwide website. His compilation includes a history of the surname Eisenbarth, the family coat of arms and assorted trees that total over 6,000 individuals who have the surname Eisenbarth. Also interesting is the website of Ben Hartman in the Netherlands, who has compiled quite a bit of information on Doctor Johannes Andreas Eisenbarth.


Eisenbarth Coat of Arms.



SURNAME ORIGINS

The name Eisenbarth developed from the male first name 'Isanbert', which was common in southwest Germany before the 8th century. The name means iron beard or glittering metal.

In historic books, documents, lease accounts and parish registers appears names similar to "Eisenbarth":
- Between 768 and 814, a lord named Isanbard was the half-brother-in-law of Charles the Great.
- Around 770, Isanbard, lord in the Thurgau (Switzerland).
- In 800, Isanbard, son of Warin, was a representative of the king in Germany.
- In 822, Isanphad was witness in a lawsuit in Salzburg, Austria.
- In 872, Isambart fought, supporting the Sarazenes, in Italy.
- In 1019, Eisenbart, Lord of Sayn, was at the tourney in Trier (Germany).
- From 1033 to 1062, Isembart of Broyes was Bishop of Orleans.
- From 1090 to 1094, there was an abbot named Ysembard in Ellwangen near Aalen.
- In 1152, Isembarde Logestein (Lahnstein) was trained by the Archbishop of Trier.
- In 1190, Isanbard was a monk in the Zisterziensian monestry in Himmerod/Eifel (Germany). He was worshiped as a saint.
- In 1250 Isanbert lived in Speyer (Germany).
- In 1291, Isembardus lived in Speyer.
- In 1294, Heinrich Ysinbart lived in Speyer.
- Documents in the Trier area mention the name Eisenbarth around 1300.
- From 1300 to 1364, the clergyman Conradus Johannes Isinbardus was notary of the Koblenz Kuria.
- In 1314, Isembart lived in Iwilre/Saarland (Germany).
- In 1372, son of Isenbart in Kettig near Koblenz and his wife Demodis are mentioned in documents.
- In 1431, a monk named Isambart appears as a follower of Joan of Arc in Rouen (France).
- In 1436, Hans Isenbart is mentioned in a Thuringian document.
- In 1454, Hans Ysenbart, carpenter in Russelsheim (Germany), is mentioned.

The Coat of Arms, likely developed by Dr. Johannes Andreas Eisenbarth and his sons, shows an ostrich with a horseshoe in its bill. The ostrich, which was believed to have been able to eat iron at the time, is below a man (presumably Dr. Eisenbarth) with a cataract needle and polypus hook in his hands.

The surname Pfisterer is a variation of the more common Pfister, an occupational name for a baker, from Middle High German pfister or "baker" (from the latin pistor). The surname Duffner is probably a variant of South German Tuffer, which has two possible origins: 1) A habitational name for someone from Tuffen in Switzerland or Tiefen (earlier Tueffen) near Freiburg, place names based on Old High German tiufi or "gorge" (swamp); or 2) An altered spelling of French Dufer, a nickname from du fer or "(man) of iron". The surname Grimm is a nickname for a dour and forbidding individual, from Old High German grim or "severe" or from a Germanic personal name from grima or "mask" (helmet).

FAMILY ORIGINATES IN AALEN, MOVES TO DINKELSB&UumlHL

For many generations the Eisenbarth family lived in Aalen, where our ancestors farmed the land. Early Eisenbarth ancestors operated large estates of land and likely had fiefs farming the land via the Feudalism system of the Middle Ages. Records of Seytz Eisenbarth from Dr. Paul Edel's research includes him buying land in 1403 in Hirshbach and having a presence at the St. Johann Kapelle (St. John's Chappel) in 1428 and in Taufbach in 1434. In 1480 Cuonlin Eisenbarth had a church wedding in Unterkochen. This same year he sold land in Taufbach.

Ancestor Cuonlin Eisenbarth had two sons, Hans and Wolf. His son Wolf Eisenbart is documented in historical sources. Wolf was a "tall, upright man with a handsome figure". In the 15th Century, Wolf became a castellan -- the governor or captain of a castle -- for the Falkenstein Castle overlooking the Danube River in Beuron, Sigmaringen province, Baden-Wurttemberg. The castle had been purchased by Gottfried von Zimmern and his associates, including the von Bubenhofen brothers, in the year 1516 for 4800 florin. The castle existed from ~1150 to the 17th century, but currently only ruins of it remain.

As the story is recorded, Wolf Eisenbarth, the castellon, met Barbara von Bubenhofen, the sister of the owners of the castle after Barbara settled there. She had just gone through a separation from Wendel von Neipperg, but she was still young and used to living among people rather than locked up in a castle. Quickly, Barbara became restless. Within a year, there were rumors about an affair between Barbara and the steward of the castle, Wolf Eisenbarth. The affair was so talked about that Lord Hans Caspar von Bubenhofen had his sister Barbara removed from the castle (and placed into house arrest). Wolf von Bubenhofen imprisoned Wolf Eisenbarth in the castle at the Schalksburg by Balingen.

It was rumored that Wolf Eisenbarth was thrown over the walls and killed. But more likely it appears that Wolf feared he would be tortured. He bribed the jailor to let him escape from the castle and died while trying to climb down the steep cliff in his quest for freedom. The location where he was imprisoned was called the Eisenbarth Tower from that point forward, and it is the only part of the castle Schalksburg which remains to this day. The Schalksburg castle existed from 1100 to 1557 and was located between Burgfelden and Laufen.

Ancestor Wilhelmus Eisenbarth, born in 1588, became a veterinary surgeon at the hospital in Dinkelsbühl, which is 50 minutes north and east of Aalen in the province of Bayern (Bavaria), in 1612. A year later he married Maria Pfisterer, a native of Seidelsdorf, a suburb of Dinkelsbühl with a population of around 180 people. The village consisted of 15 households in 1800.

Wilhelm and Maria's son Michael (born 1613), my ancestor, also became a doctor and practiced in both Aalen and Fremdingen (near Herblingen). Michael's son Georg Balthasar (1660-1684) became a blacksmith in Fremdingen.

Wilhelm and Maria's eighth and last child, Matthias, became an oculist after considerable training and settled in Oberviechtech between 1659 and 1663. In 1646, both Wilhelmus and his wife Maria passed away.

MOVE TO HERBLINGEN

My Eisenbarth family migrated from Fremdingen to the tiny village of Herblingen in Bayern. The entire town was (and is) Roman Catholic. Herblingen belongs to the parish Hochaltingen and the churchbook from 1657 to 1704 was lost, so there is no data prior to 1704. The churckbooks from Fremdingen begins in 1666. Enslingen (16 houses) and Buhlingen (12 houses) belongs to the parish Minderoffingen and the church books begin in 1728.

Two hundred years ago the village had 56 houses, with a total village population of around 250. Every man in the village was a farmer. The current population is 207 people. Herblingen is part of the community Fremdingen, which has 2,000 people in 12 villages. According to information at the Fremdingen website, the area has been populated since the Stone Age. The nearby river (brook) Mauch offered a water source, the deep forests offered timber, game, and fruits, and the soil was suitable for cattle breeding and agriculture.

The Eisenbarths were farmers, blacksmith, or doctors. The first known doctor in the ancestry is Wilhelmus Eisenbarth, who was a veterinary surgeon in the early 17th century. He resided near Dinkelsbühl, Germany, north of Aalen.

Regarding my family line, distant cousin Gunter Thurheimer has translated some records from Germany, as follows:

- From 13.Feb.1773: Margaretha Eisenbarth (mother of Kaspar) 'Maierin' gives the 'Maierhof' with 5 horses, 5 bulls, 5 cows, 2 calfs to the son Kaspar for 2800 Gulden. Kaspar gets 300 Gulden for marriage and Thereseia Schwarz brings 1000 Gulden for marriage.

- From 25.May.1793: Kaspars wife Theresia's death; Kaspar marries his second wife Barbara Zinck (brings 200 Gulden for marriage).

- From 28.Sep.1805: Barbara's death; Kaspar marries his third wife Josefa Holzschuh (brings 100 Gulden for marriage). 5 children by the first marriage, 1 child by the second marriage, every child gets 300 Gulden for marriage (=1800 Gulden).

(source: Staatsarchiv in Augsburg)

MATTHIAS EISENBARTH, FATHER OF J.A. EISENBARTH

The book "Women, Medicine, and Theatre from 1550-1750" by M.A. Katritzky discusses Matthias Eisenbarth, his wives, and his son in depth starting at page 168. Katritzky describes Matthias Eisenbarth as "an itinerant oculist, surgeon, and lithotomist" who "settled his family in oberviechtach, some fifty km. north of the nearest large city, Regensburg."

Matthias Eisenbarth was the father of Johan Andreas Eisenbarth. Matthias, like his son, was an eye doctor. He married the widow of Jacob Schaub in 1656 in Wurzburg. From 1659 to 1663, they resided in Oberviechtach, where their son Johannes Andreas was born. Oberviechtach suffered severely from the Thirty Years War, with many houses burned and the population starving. One of the causes of this war was the religious conflict between Protestants and Catholics in Germany. The Thirty Years War lasted from 1618 to 1648.

Mathias and Maria may have converted to Protestantism in response to the Thirty Years War. It is unclear if Mathias had children with a previous wife or if Schaub had children who Mathias adopted.

JOHANNES ANDREAS EISENBARTH

Johann Andreas Eisenbarth (March 27, 1663 - November 11, 1727), a distant cousin, was a German surgeon who was a native of Oberviechtach, Bavaria. In 1677, Alexander Biller, a famous eye doctor, married the sister or step-sister of Johan Andreas Eisenbarth. In his early teens, young Johan Andreas traveled to Bamburg to live with Biller and learned to be a wound doctor under Biller's tutelage.

According to author M.A. Katritzky, "Spectacle and showmanship became central to his activities. He started his independent career in 1686, on marrying Catharina Elisabetha Heinigke, a daughter of the Altenburg surgeon whose practice he joined on completing his surgical apprenticeship." Heinigke also participated as a surgeon. According to Katritzky, an Eisenbarth handbill from 1702 noted, "Highly respected ladies who are bashful of revealing their infirmities can obtain a consultation from his beloved wife, because she is able to offer dependable advice to many married and umarried women, all in complete confidence."

"Maintaining their permanent base in Altenburg, the couple worked together until her death in 1721, criss-crossing the German-speaking territories between Innsbruck, Hamburg, Koblenz, and Breslau (Poland) with their growing family and an entourage often exceeding 100 assistants. To deter imitators, their performers, medical aides, apprentices, and servants were extravagantly costumed in stage costumes or the troupe's distinctive red and silver livery."

In response to King Friedrich Wilhelm I's decree of 28 Jan. 1716, Eisenbarth partially disbanded his troupe. The decree prohibited all itinerant performers in Prussia.

Eisenbarth himself was an oculist and barber-surgeon who specialized in treatment of cataracts, calculus surgery, and the treatment of bone fractures. His father and grandfather were also surgeons, and much of Eisenbarth's medical knowledge was learned from his brother-in-law, Alexander Biller. Although, he was referred to as "Dr. Eisenbarth," he had no medical doctorate, nor was he officially appointed to the title. Despite this, he was considered a skilled surgeon, and was bestowed with privileges by German royalty.

Johannes Andreas Eisenbarth was the first cousin of my 7th great-grandfather, Georg Balthasar Eisenbarth (born 1660). George Balthasar resided in Fremdingen, far from his cousin Johannes Andreas. However, Dr. Eisenbarth was a "traveling surgeon," so his journeys took him throughout most of Germany. He usually traveled with a large entourage of up to 120 persons. This group included entertainers, harlequins and musicians who performed in a carnival-like atmosphere while Eisenbarth plied his trade. This spectacle drew large crowds, and the loud music and revelry helped drown out the cries of pain from his patients.

Dr. Eisenbarth designed his own medical instruments, including a cataract needle and a polypus hook. From his home in Magdeburg called Zum goldenen Apfel, he manufactured and marketed his own medicine, and sold these remedies on a large-scale. Around 1800 a song called "Ich bin der Doktor Eisenbarth" ("My Name is Doctor Eisenbarth") became popular in Germany, and author Eike Pies penned a book titled "Ich bin der Doktor Eisenbarth." In his home town of Oberviechtach, there is the "Eisenbarth Fountain," commemorating his work. Also, a pharmacy in Oberviechtach sells a product called "Eisenbarth elixir."

In 1722, Eisenbarth married Anna Rosina Albrecht Hummel, whose first husband was the notable Christoph Hummel. According to a book by M.A. Katritzky that focuses on women in medicine from 1550 to 1750, "Christoph Hummel ran the surgical side of the business, drew teeth, and sold 'noble' tooth power, tooth ticture, opiates, and plasters. Anna complemented his medical services with a flourishing traveling toiletries and cosmetics business: "At his side is his wife / offering countless products / Firstly she produces from her pockets / Soap-balls with which you can wash yourself. / Also she has prepared / a facial water of the type / that gets rid of all sports / if you apply it daily. / Furthermore, she has additionally / prepared the finaest foundation, / and finally, a whole consignment / of firming pomade."

According to Katritzky, Johan Andreas Eisenbarth was on "a completely different level of sophistication" from Hummel. Eisenbarth "was one of a few" ... "whose unusual degree of skill, ambition, and media awareness put them in a genuine position to maximize" a public lifestyle as a famous physician.

JOHANNES ANDREAS EISENBARTH TIMELINE

The following timeline was compiled by German genealogist Erich Heinicke (1899-1972), who I believe is also related to Eisenbarth through his wife.

1663 - J.A. Eisenbarth was born and baptized in Oberviechtach.

1673 - Training of the young Johann Andreas with the oculist Alexander Biller in Bamberg.

1684 - Journeyman apprentice on cataract surgery with Biller in Bamberg. Lived for 6 months at a monastery.

1686 (Sept. 26) - Duke Friedrich of Altenburg, as a privilege, granted Eisenbarth his practice in the Principality of Saxony/Altenburg. According to a letter written to Duke Frederick I of Saxony, found in the State Archives at Dresden, he has cured 30 patients. This is according to the testimony of personal physician Gabriel Clauder and another physician, John Ubleben.

1686 - Eisenbarth marries Miss Catharina Elisabetha Heinigkens at the Church of Altenburg Thuringia.

1888 - Eisenbarth completes two years of work in Altenburg.

1688 (May 10) - Eisenbarth received privileges from the Duchy of Weimar for 24 dollars and 8 pence.

1689 (Feb. 8) - Eisenbarth was adopted by the city of Erfurt as a citizen and physician. The Archbishop-Elector of Mainz, Archbishop Franz von Schonborn, chose him as his doctor. By this time, Eisenbarth has healed around 300 persons.

1691 (Feb. 27) - Eisenbarth is bestowed the following certificates and awards:
....................... - Electoral oculist and surgeon
....................... - Saxony electoral oculist and surgeon
....................... - Altenburg oculist and surgeon
....................... - Weimar oculist and surgeon
....................... - Jena oculist and surgeon
....................... - Erfurt city physician, surgeon and oculist

1692 (Nov. 8) - Eisenbarth is tested in Dresden at the medical college and gives a presentation about his new invention, the "star-needle".

1693 (Jan. 27) - Eisenbarth is granted the right to cure Saxony.

1697 (May 10) - Eisenbarth joins the Council of the City of Leipzig as well as the City of Zeitz.

1697 - Eisenbarth receives the approval of the King of Poland.

1698 - Eisenbarth works in the electorate of Brandenburg, and later in Szczecin, Stargard, Colberg and Zeitz.

1698 (Oct. 3) - Eisenbarth's youngest son died in Wittenberg.

1701 - Eisenbarth works in Nuremberg.

1702 - At the Frankfurt Easter Fair, he lived at Zur Darmstadt, the house of Lorenz Heister, Sr. Heister's son, Lorenz, Jr., would later become one of the uitmuntentste doctors and a pioneer of modern surgery. In his official biography, he stated that after his meeting with Eisenbarth he had a sudden desire to study medicine. At the time of the meeting, Heister, Sr. was a 38-year-old country doctor and Heister, Jr. was a 17-year-old schoolboy. Eisenbarth works on cancer treatments, harelips, eye surgery, bone fractures and bladder stone surgeries.

1702 - Eisenbarth works in Wurzburg and Bamberg..

1703 - Eisenbarth buys the former brewery "The Golden Apple" in Magdeburg for 3100 dollars from the heirs of Johannn Friedrich Hoffmeister. (Rebuilt in 1671.)

1705 - Eisenbarth works in Koblenz and St. Goar, where he is documented to have cured 12 patients. Then he travels back to Frankfurt au Main.

1706 - Eisenbarth works in Darmstadt.

1707 (Jan. 13) - According to the of St. John's Church in Magdeburg, Eisenbarth baptized a son named Adam Gottfried.

1707 (March 25) - Eisenbarth applies for the privilege of being a Royal country doctor. His application is accompanied by a certificate issued by the master cooper from Muncheberg, G. Tietze, on his recovery and the preacher of St. Petri in Koln on the healing of deafness. Eisenbarth relies on testimony of the medical college in Dresden and faculty of medicine of the City of Helmstedt and Magdeburg.

1710 (Sept. 24) - King Frederick of Prussia granted the privilege of "Royal Prussian country doctor" to Eisenbarth.

1711 (Jan. 10) - George Ludwig, Elector of Brunswick-Luneburg near Hanover, granted the privilege Eisenbarth as a country doctor of the Principality of Luneburg. Eisenbarth is offered 200 dollars annual salary if he will remain permanently in Hanover. Eisenbarth refused, and travels to Berlin and Osterode.

1711 - Eisenbarth complains about competitor in Magdeburg. The magistrate assured of his protection.

1712 - Eisenbarth works in Coburg and Saalfeld. In Saalfeld he receives a privilege.

1713 (May 10) - His son Michael married in Magdeburg. (Extract from the register book of St. John's Church.) It is unclear who he married.

1716 (Feb. 7) - "His Majesty the King of Prussia, Our most gracious Lord commanded The Magdeburg Government to grace the local oculists (eye doctor) Eisenbarth. After he arrives in Magdeburg, he will continue to go to Staargard, where he will apply his expertise to the military. The Lieutenant received an injury to his eye, and Eisenbarth will help him heal." Fri. Wilhelm, in Berlin

1716 (Feb. 13) - Lawyer Frederick Muller, son of Eisenbarth, indicates that Eisenbarth staying in Munster in Westphalia. Eisenbarth was recalled traveling to Staargard and successfully operated on Lt. Gravenitz.

1716 (June 8) - Eisenbarth is back in Stargard at the Oldenhoffs home.

1716 (Sept. 1) - In Stettin, he advertises through manifestos which report on his successes in Stargard, Stettin, and Kolberg in Prussia.

1716 (Sept. 9) - Eisenbarth advertises in newspapers, and boasts of fixing people's rupture and gallstone problems.

1716 (Nov. 3 - 21) - Eisenbarth is housed in the council cellar in Szczecin.

1717 (Feb. 1) - King Friedrich Wilhelm I of Prussia gave Eisenbarth the title of Royal Prussian court and court oculist councilor. (Cost was 200 dollars.)

1717 - Son Adam Gottfried Eisenbarth goes to the school in the monastery hill.

1721 (March 16) - His wife, Catharina Elisabeth, was buried. Pastor. H. Calvisius officiated.

1722 - At the Protestant parish Arendsee (Altmark), Eisenbarth marries the widow of Lord Christoph Hummel, Anna Rosina Albrecht. He is called the "Royal Prussian council and court-famous oculist."

1722 - Eisenbarth works in Quedlinburg.

1723 - Eisenbarth works in Gdansk and Malbork. (King's Castle in East Prussia.)

1727 - Will of Eisebarth established, leaving wife and children as heirs. A copy of the Testament is written in Gottingen in the National Archives of Magdeburg.

1727 (Nov. 11) - Eisenbarth passes away in Hannoversch Munden, a town of 28,000 people in Lower Saxony (Central Germany).

1728 - The Eisenbarth home in Magdeburg is sold by heirs to Christian Wedemeyer for 300 dollars. (Sixty dollars remained on the mortgage.)


Eisenbarth Memorial Stamp, released 1977
Eisenbarth statue in Oberviechtach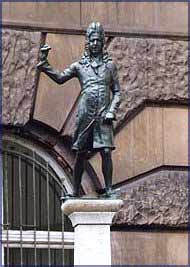 Eisenbarth statue at the Magdeburg fountain






(Thank you to Dr. Paul Edel, Michael Eisenbarth, and Gunter Thurheimer for their help in tracing this family line.)




If you see any connections in the below, please contact me.

Surnames of those in my direct ancestral line appear in BOLD.






Descendants of Seytz Eisenbarth


1 Seytz Eisenbarth b: Abt. 1380 in Aalen, Baden, Germany d: unknown
.. occupation: farmer
...+ (unknown) (unknown) b: in Germany d: unknown
....... 2 Wolfgang Eisenbarth
....... 2 Cuonlin Eisenbarth b: Bef. 1450 in Germany d: unknown
.......... occupation: house farmer
............+ (unknown) (unknown) m: 1480 in Unterkochen, Baden, Germany
................... 3 Hans Eisenbarth b: 1480 in Germany d: unknown
...................... occupation: house farmer
........................+ (unknown) (unknown) m: 1510
.............................. 4 Michael Eisenbarth b: 1510 in unknown d: unknown
................................. occupation: house farmer
................................+ (unknown) (unknown) m: 1540
....................................... 5 Leonhard Eisenbarth b: unknown d: Before 1592
.......................................... occupation: landlord, farmer, and keeper of lambs
...........................................+ Elisabetha (unknown) m: 1585 in Unterkochen
.............................................. 6 Wilhelmus Eisenbarth b: 1588 in Unterkochen m: April/May 27, 1613 in Dinkelsbühl, Bayern d: Feb. 7 or July 2, 1646
................................................ occupation: surgeon at hospital in Dinkelsbühl
.................................................+ Maria Pfisterer b: 1581 in Seidelsdorf, Bayern Germany d: July 7, 1646 in Dinkelsbühl, Bayern
........................................................ 7 Michael Eisenbarth b: July 11, 1613
........................................................... occupation: surgeon in Aalen and Fremdingen
............................................................+ Katharina Duffner b: unknown d: March 5, 1685 in Fremdingen
.....................................................................8 Jakob Eisenbarth b: 1650 d: unknown
........................................................................+ Margaretha Schnelle b: unknown d: unknown
.....................................................................8 Georg Balthasar Eisenbarth b: 1660 m: June 13, 1684 d: unknown
....................................................................... occupation: blacksmith
........................................................................+ Katharina Grimm
.......................................................................... [See below for continuation of this line.]
............................................................*2nd Wife of Michael Eisenbarth:
............................................................+ Anna Rieder b: unknown d: in Fremdingen
........................................................ 7 Thomas Eisenbarth b: Dec. 8, 1614 d: unknown
........................................................ 7 George Eisenbarth b: April 30, 1618 d: unknown
........................................................ 7 Anna Eisenbarth b: May 17, 1619 d: unknown
............................................................+ Andreas Schaumberger
........................................................ 7 Cordula Eisenbarth b: unknown d: unknown
............................................................+ Petrus Roth
........................................................ 7 Maria Eisenbarth b: July 14, 1621 d: 1624
........................................................ 7 Margaretha Eisenbarth b: Sept. 7, 1623 d: unknown
............................................................+ (unknown) Miller
........................................................ 7 Maria Eisenbarth b: Dec. 15, 1624 d: unknown
............................................................+ Peter Steinlein
........................................................ 7 Matthias Eisenbarth b: Feb. 16, 1627 in Dinkelsbühl m: 1656 in Wurzburg d: Jan. 17, 1665 or 1673 in Oberviechtech
........................................................... occupation: oculist/eye doctor
............................................................+ Maria Magdalena Schaub (widow of Jacob Schaub)
.....................................................................8 Georg Rudolf Eisenbarth b: March 14, 1659 in Goldkronach d: unknown
.....................................................................8 Johann Andreas Eisenbarth b: March 27, 1663 in Oberviechtach d: Nov. 11, 1727 in Hannoversch, Monden
...................................................................... occupation: oculist/traveling physician
........................................................................+ Catharina Elisabeth Heinigke (Heinicke) b: Oct. 20, 1668 m: Sept. 16, 1686 in Altenburg d: March 16, 1721
............................................................................... 9 Johann Michael Eisenbarth b: Sept. 29, 1686/1688 in Altenburg m: May 20, 1713 in
.................................................................................. Magdeburg d: 1727 in Berleburg
............................................................................... 9 Maria Magdalena Eisenbarth b: Jan. 7, 1691 in Magdeburg d: 1723
...................................................................................+ Johann Friedrich Muller m: Nov. 2, 1713 in Magdeburg
............................................................................... 9 Johann Andreas Eisenbarth b: Dec. 4, 1697 in Altenburg d: March 10, 1698 in Wittenberg
............................................................................... 9 Ferdinand Christoph Eisenbarth b: April 4, 1700 in Altenburg d: unknown
............................................................................... 9 Christian Friedrich Eisenbarth b: Aug. 16, 1702 in Altenburg d: unknown
............................................................................... 9 Adam Gottfried Eisenbarth b: Jan. 13, 1706 in Magdeburg d: unknown
............................................................................... 9 Susanne Catherine Eisenbarth b: unknown d: unknown
...................................................................................+ Capitain (Captain) Bonnies
........................................................................*2nd Wife of Johannes Eisenbarth:
........................................................................+ Anna Rosina Albrecht Hummel m: 1722 in Arendsee
....................................... 5 Johannes Eisenbarth m: 1548 in Unterkochen
.......................................... occupation: cook
...........................................+ Barbara Spitzentrat
....................................... 5 Zusann Eisenbarth m: 1590 in in Oberkochen, Baden, Germany
...........................................+ Michael Schuster
................... 3 Wolf Eisenbarth
...................... occupation: castellan of the Falkenstein Castle




Descendants of Georg Balthasar Eisenbarth


1 Georg Balthasar Eisenbarth b: Abt. 1660 m: June 13, 1684 in Fremdingen d: unknown
..+ Katharina Grimm
....... 2 Johannes Eisenbarth b: July 6, 1685 in Fremdingen d: unknown
....... 2 Leonhard Eisenbarth b: March 10, 1687 in Fremdingen d: Feb. 19, 1771 in Herblingen
.......... occupation: farmer, house #46, the "Maierhof"
............+ Margaretha Deibler b: Abt. 1704 in Herblingen m: Jan. 29, 1729 in Herblingen d: June 6, 1780 in Herblingen
..................... 3 Kaspar Eisenbarth b: March 5, 1743 in Herblingen d: March 1812 in Herblingen
........................ occupation: farmer, house #46, the "Maierhof"
.........................+ Theresia Schwarz b: in Kleinerdlingen m: Feb. 22, 1773 d: Bef. 1794 in Herblingen
.................................... 4 Maria Barbara Eisenbarth b: Dec. 15, 1773 in Herblingen d: Oct. 4, 1803 in Herblingen
.................................... 4 Johan Michael Eisenbarth b: June 5, 1775 in Herblingen d: unknown
.................................... 4 Johan Kaspar Eisenbarth b: Jan. 4, 1778 in Herbligen d: Jan. 1, 1812 in Herblingen
.................................... 4 Ignatz Eisenbarth b: July 17, 1779 in Herblingen d: Feb. 13, 1809 in Herblingen
.................................... 4 Anton Eisenbarth b: July 10, 1781 in Herblingen d: unknown
.................................... 4 Maria Anna Eisenbarth b: Feb. 1, 1783 in Herblingen d: unknown
.................................... 4 Franz Anton Eisenbarth b: March 30, 1786 in Herblingen d: unknown
.................................... 4 Josef Eisenbarth b: March 3, 1793 in Herblingen d: unknown
........................*2nd Wife of Kaspar Eisenbarth:
........................+ Barbara Zinkh b: Dec. 1, 1767 in Herblingen m: June 23, 1793 d: Nov. 3, 1801 in Herblingen
--
Notes on Kaspar and Barbara Eisenbarth:
.............The Eisenbarth resided in house number 46 in Herblingen. It was the "Maierhof" -- the greatest and richest farmer in the village.
--
.................................... 4 Maria Sabina Eisenbarth b: May 7, 1794 d: unknown
.................................... 4 Josef Eisenbarth b: Feb. 9, 1796 in Herbligen d: unknown
.................................... 4 Josefina Margaretha Eisenbarth b: Feb. 28, 1798 in Herblingen
....................................... m: Jan. 7, 1817 in Burgheim d: June 23, 1839 in Burgheim
........................................+ Andreas Reichl b: Nov. 30. 1795 in Burgheim d: Feb. 4, 1860 in Burgheim
................................................... 5 Johan Reichl b: Dec. 23, 1818 in Burgheim, Germany d: unknown
................................................... 5 Christian Reichl b: Dec. 17, 1819 in Burgheim d: unknown
................................................... 5 Johan "John" Reichl b: April 9, 1821 in Burgheim d: Feb. 24, 1908 in Milwaukee, WI
.......................................................+ Anna Brand b: Abt. 1831 in Bayern, Germany d: Aug. 14, 1880 in Milwaukee, WI
............................................................... 6 Elizabeth Reichl b: Abt. 1863 in Michigan d: Oct. 13, 1937 in Milwaukee, WI
...................................................................+ Nicolaus Hoelz/Hollz/Helz b: Abt. 1856 d: Dec. 26, 1895 in Milwaukee, WI
..................................................................... [click here for additional information on this line.]
............................................................... 6 Mary Reichl b: Abt. 1867 in Milwaukee, WI d: unknown
............................................................... 6 Caspar Reichl b: Abt. 1869 in Milwaukee, WI d. April 18, 1929 in Milwaukee, WI
...................................................................+ Sophia Weber Rappel b: Abt. 1866 m: Feb. 6, 1894 in Milwaukee, WI
..................................................................... d: March 11, 1951 in Waukesha, Wisconsin
..................................................................... [click here for additional information on this line.]
............................................................... 6 Catharina Appolonia Reichel b: Abt. 1873 in Milwaukee, WI
.................................................................. d: May 28, 1881 in Milwaukee, Wisconsin
............................................................... 6 John Reichel b: April 21, 1876 in Milwaukee, WI d: Aug. 29, 1942 in Milwaukee, WI
................................................... 5 Franz Xavier Reichl b: Sept. 2, 1822 in Burgheim d: unknown
................................................... 5 Andreas Reichl b: Sept. 16, 1823 in Burgheim d: unknown
.......................................................+ Walburga Angermayr b: in Reidheim d: unknown
............................................................... 6 Joseph Reichl b: July 7, 1861 in Burgheim d: unknown
............................................................... 6 Maria Anna Reichl b: July 25, 1862 in Burgheim d: Aug. 21, 1862
............................................................... 6 Anton Reichl b: Aug. 22, 1864 in Burgheim d: unknown
............................................................... 6 Andreas Reichl b: April 29, 1867 in Burgheim d: unknown
................................................... 5 Victoria Reichl b: Nov. 25, 1824 in Burgheim d: unknown
................................................... 5 Lorenz Reichl b: July 28, 1827 in Burgheim d: unknown
................................................... 5 Maria Anna Reichl b: Jan. 26, 1829 in Burgheim d: unknown
................................................... 5 Joseph Reichl b: Feb. 6, 1830 in Burgheim d: unknown
......................................................+ Ursula Knauer b: in Weissenhorn d: unknown
................................................... 5 Damian Reichl b: Oct. 11, 1831 in Burgheim d: Dec. 8, 1831 in Burgheim
................................................... 5 Clemens Reichl b: Nov. 23, 1832 in Burgheim d: unknown
................................................... 5 Ottilia Reichl b: Dec. 9, 1835 in Burgheim d: Oct. 21, 1912 in Milwaukee, WI
......................................................+ George Hirschboeck b: July 19, 1830 in Burgheim, Germany d: Dec. 6, 1880
............................................................... 6 Barbara Hirschboeck b: Abt. 1858 d: Nov. 4, 1935 in Milawukee, WI
............................................................... 6 Damian "Daniel" Hirschboeck b: July 7, 1860 d: Oct. 8, 1905 in Pewaukee, WI
............................................................... 6 Maria "Mary" Hirschboeck b: March 28, 1863 in WI d: unknown
............................................................... 6 Elizabeth Hirschboeck b: Dec. 15, 1865 d. Dec. 12, 1865 in WI
............................................................... 6 John Hirschboeck b: Abt. 1866 in Milwaukee d: Sept. 20, 1870 in Milwaukee, WI
............................................................... 6 Elizabeth Hirschboeck b: Dec. 15, 1869 in Milwaukee, WI d: Nov. 26, 1922 in Chicago, IL
...................................................................+ Phillip Schuster b: Feb., 1867 in Wisconsin m: April 15, 1895 d: 1933-1943 in Chicago, IL
................................................................... [click here for additional information on this line.]
............................................................... 6 George Hirschboeck b: Aug. 2, 1872 in WI d: Sept. 9, 1940 in WI
...................................................................+ Josephine Lemberger b: May 15, 1878 in Lam, Germany d: March 11, 1933 in WI
................................................................... [click here for additional information on this line.]
............................................................... 6 John Hirschboeck b: 1874 in Milwaukee d: unknown
.................................... 4 Franz Josef Eisenbarth b: Feb. 6, 1800 in Herblingen d: unknown
.........................*3rd Wife of Kaspar Eisenbarth:
.........................+ Theresia Holzschuh b: in Ehingen, Germany m: Nov. 12, 1805 in Herblingen d: unknown
.................................... 4 Johann Eisenbarth b: Aug. 21, 1809 in Herblingen d: unknown
............*2nd Wife of Leonhard Eisenbarth:
............+ Maria Stiegler/Steigler m: Jan. 27, 1729
....... 2 Margaretha Eisenbarth b: March 12, 1689 d: unknown
....... 2 Anton Eisenbarth b: Jan. 12, 1691 d: unknown