Pronunciation: Shtoot-hof

In September, 1939, the Nazis built the Stutthof concentration camp near Danzig in the extreme northeast of
Germany. Originally, the camp was under the jurisdiction of the Danzig chief of police; however, in 1941, it was
reassigned as an SS camp. In 1943, the camp was enlarged and surrounded by electrified barbed fences.

There were many Stutthof sub-camps, including (partial listing):

| Bottschin | Brodnica | Bromberg |
| --- | --- | --- |
| Chorabie | Danzig-Burggraben | Danzig-Neufahrwasser |
| Danzigerwerf / Gdansk | Dziemiany | Elbing |
| Elblag (Org. Todt) | Elblag (Schinau) | Gdynia |
| Gdansk Kokoszki | Gerdenau | Graudenz |
| Greendorf | Grodno | Grodzisk Mazowiecki |
| Gutowo | Burggraben | Gwisdyn |
| Cieszyny | Heiligenbeil | Jessu |
| Kokoschken | Kolkau | Krzemieniewo |
| Lauenberg | Malken Mierzynek | Nawitz |
| Niskie | Obrzyckoth | Police near Szczecin |
| Prault | Pruszcz | Scherokopas |
| Schiffenbeil | Seerappen | Slupsk |
| Sophienwalde | Starorod | Turun |


Some of the perpetrators at the camp are listed here.

Around 70 percent of the inmates at the Stutthof Concentration Camp were Jewish. More than 110,000
persons were deported there, and more than 85,000 were murdered there. It was primarily a forced labor
camp. The DAW (German Armament Works) installed a factory just out outside the camp and in 1944 a
Focke-Wulff airplane factory was constructed there (USHMM, Historical Atlas of the Holocaust, 1996:160).

In 1944 a women's subcamp of Stutthof called Bromberg-Ost (Konzentrationslager Bromberg-Ost) was set
up in the city of Bydgoszcz. Two years earlier, in 1942, is when the first female prisoners and first female
Nazi guards arrived in Stutthof. The original camp ("old camp") was surrounded by barbed-wire fence. It
comprised eight barracks for the inmates and a command post (kommandantur) for the S.S. guards. In 1943,
a new camp was constructed alongside the original. It contained thirty new barracks and barbed-wire fence.
A crematorium and gas chamber were added in 1943, just in time to start mass executions after Stutthof
became part of the Nazi "Final Solution" in June of 1944. Mobile gas wagons were also used when the
gas chamber reached its maximum capacity of 150 people per execution. When the Soviet army began its
advance through Nazi-occupied Estonia in July and August 1944, the camp staff of Concentration Camp at
Klooga evacuated the majority of the inmates by sea and sent them to the Stutthof Concentration Camp.

Among the transports in 1944 alone:
June 29th - 2502 Hungarian Jewish women from Auschwitz
July 12th - 282 Jews from Kowno
July 13th - 3331 Jewish prisoners from Kowno
July 16th - Another transport from Kowno with 1172 Jewish prisoners
July 17th - 1208 Jewish prisoners from Kowno
July 19th - 2169 Jewish prisoners from Kowno
July 20th - 2500 Hungarian Jewish women from Auschwitz
July 25th - 1503 Jewish prisoners from Kowno and 500 from Buchenwald
August 4th - Transport with 793 Hungarian, German, etc. Jewish women from Kowno
August 9th - 2nd transport from Riga with 6832 Jewish prisoners
August 14th - 2800 Hungarian Jewish women from Auschwitz
August 16th - 2800 Hungarian Jewish women from Auschwitz
August 23rd - 4408 Polish, Lithuanian and German Jews from Riga
August 28th - 2800 Jewish prisoners from Auschwitz; One transport from Lodz, another from Warsaw totaling 3174 individuals
Sept. 3rd - 2405 Jewish prisoners from Auschwitz
Sept. 10th - Two transports with 1750 Jewish prisoners from Auschwitz
Sept. 27th - 4501 Jewish women from Auschwitz
Oct. 1 - 3155 Jewish women diff. nationality from Riga
Oct. 13th - 190 Jewish prisoners from Riga
Oct. 28th - 1500 Jewish prisoners from Auschwitz
(source: Stutthof, das Konzentrationslager)

The conditions in the camp were brutal. Many prisoners died in typhus epidemics that swept the camp
in the winters of 1942 and 1944. Those deemed too weak or sick to work by the S.S. were gassed in the
camp's gas chamber. Gassing with Zyklon B began in June of 1944. Camp doctors also killed sick or
injured prisoners in the infirmary with lethal injections. The Nazis used Stutthof prisoners for forced labor.
Some prisoners worked in S.S.-owned businesses such as the German Equipment Works (DAW) while
others laboured in local brickyards, private industrial enterprises, or in the camp's workshops. One-
hundred and five (105) Stutthof subcamps were established throughout northern and central Poland -- an
extensive network of forced labor camps. The major subcamps of Stutthof were Thorn and Elbing.

In 1945, about 5,000 prisoners from Stutthof subcamps were marched to the Baltic Sea coast, forced
into the water, and machinegunned. The rest of the prisoners were marched in the direction of Lauenburg
in eastern Germany. They were cut off by advancing Soviet forces. The Germans forced the surviving
prisoners back to Stutthof. Marching in severe winter conditions and treated brutally by S.S. guards,
thousands died during the march. In late April 1945, the remaining prisoners were removed from the
camp by sea because Stutthof was completely encircled by Soviet forces. Again, hundreds of prisoners
were forced into the sea and shot. Over 4,000 Stutthof prisoners were sent by small boat to Germany,
some were to the Neuengamme Concentration Camp near Hamburg, and some were sent to camps
along the Baltic coast. Many drowned along the way. A barge full of prisoners was washed ashore at
Klintholm Havn in Denmark, where 351 of the 370 prisoners on board were saved May 5, 1945. Shortly
before the German surrender, some prisoners were transferred to Malmo, Sweden, and released into the
care of that neutral country. Stutthof was the last camp liberated by the Allies on May 9, 1945. Around
100 prisoners who had hidden in the camp were liberated. It was the last camp to be liberated.

Tragically, some evidence exists of small-scale soap production of soap made from human corpses in the
Stutthof Camp. In his book "Russia at War 1941 to 1945", Alexander Werth reported that while visiting
Gdansk/Danzig in 1945 shortly after its liberation by the Red Army, he saw an experimental factory outside
the city for making soap from human corpses. According to Werth it had been run by "a German professor
called (Rudolf) Spanner" and "was a nightmarish sight, with its vats full of human heads and torsos pickled
in some liquid, and its pails full of a flaky substance -- human soap." During the Nuremberg Trials, Sigmund
Mazur, a laboratory assistant at the Danzig Anatomical Institute, testified that soap had been made from
corpse fat, and claimed that 70-80 kg of fat collected from 40 bodies could produce more than 25 kg of soap."
The professor, Rudolf Spanner, was never punished for his deeds and died of natural causes in 1960.


~~~~~~~~~~~~~~~~~~~~~~~~~~~~~~~~~~~~~~~~~~~~~~~~~~~~

Some of the major Nazi Concentration Camps in occupied Poland.
This site is a memorial to the victims and survivors of the Stutthof Concentration Camp.

If you know a survivor of Stutthof Camp, please contact me. Please review the site content below.
Zachor - We Remember.
------------------------------------------------------------------------

Documenting Your Relative at Stutthof:

The Stutthof Museum's guidelines for their research service is online. I do not know whether there fees
associated with this. Information about a small fraction of the prisoners is also available in
JewishGen's Holocaust Database and in the component databases "German Jews at Stutthof
Concentration Camp," "Auschwitz-Stutthof Transfers, 26 Oct. 1944," and "French Prisoners in Stutthof".
(See below for direct links to these databases.)

To view large lists of prisoners, the U.S. Holocaust Memorial Museum's resources may be helpful.
Search for "Stutthof" in their Name Lists Catalog to see details of holdings, including more than 300 reels of
microfilm from the Stutthof Museum containing "90% of the personal files of the c. 80,000 inmates."

Remember the Victims

A memorial site was built at the approximate location where the victims of the Stutthof victims were sent
into the Baltic Sea. The location of this memorial is a village called Palmnicken (now called Jantarny,
near Kalingrad, Russia). Additionally, the Chabad Rabbi of Kaliningrad, Rabbi Schwedik, does a service
to memorialize the victims at the sea shore each year. The Russians also built a memorial at this site.

One last memorial, albeit small, is this website. Please submit the names of victims so I can list them.




LINKS

Stutthof Concentration Camp Links:

- Stutthof Museum (Muzeum Stutthof w Sztutowie)
- Comprehensive Source on Stutthof Concentration Camp
- KZ Stutthof (English translation)
- Polish article on Stutthof Concentration Camp (English translation)
- Polish Prisoner List, Stutthof
- List of Stutthof Nazi Staff, Trials, and Sentences
- Executions of War Criminals at Stutthof (scroll down)
- The "Soap Factory" of Rudolf Spanner (scroll down)

Stutthof Jewish Links:

- Article: The Spirits Who Inspired
- Execution of the Jews of Latvia at Stutthof: First-hand Account
- List of German Jews at Stutthof Concentration Camp
- List of French Jews at Stutthof Concentration Camp
- Stutthof Records at U.S. Holocaust Memorial Museum
- Rescue of Stutthof Victims in Denmark (scroll down)
- Transport from Auschwitz to Stutthof, 1944
- Slave Labor to Build Stutthof: Lea and Sara Slomovic

Victims & Survivors of Stutthof:

Click here to see the names of victims and survivors.

Remember Your Family:

Searchable Database of 7,000 Jewish Victims of Germany Tyranny
(Search for a term like Stutthof as a location.)
International Tracing Service
JewishGen Family Finder
JRI-Poland: Search for Your Family
Yad Vashem: Search for Your Family
Yad Vashem: Submit Names of Your Family Members



Polish prisoners labor to build the camp at Stutthof.
The first prisoners at Stutthof eat during a break in the construction of the camp.
Himmler speaking with Stutthof staff.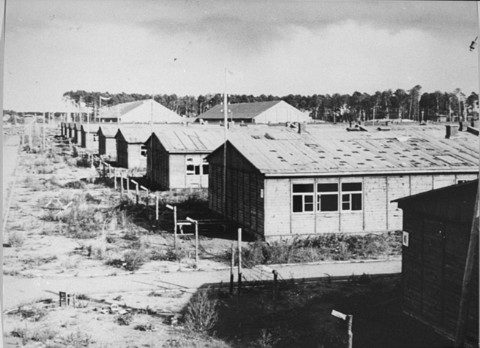 General view of the camp.
The gas chamber is on the left side and the crematorium is on the right side.
Ovens in the crematorium at the Stutthof Concentration Camp.
Nazi watchtower at the Stutthof Concentration Camp.
Prisoners at Stutthof stayed in wooden barracks.
A mass execution in the Stutthof concentration camp.
Post-war hanging of female S.S. guards at Stutthof.
Skulls of inmates and Zyklon B canisters displayed at Stutthof after the war.
Memorial at Stutthof.
Jan Malatak (1923-2004), member of the Slovakian resistance, who survived Stutthof.
Stutthof Survivor Judy Meisel with students at Penn. State University in 2010.