EARLY VEHOVAR FAMILY

Great-great-great-great-grandfather, landowner and innkeeper Andreas Vehovar, married Theresia Vehovsky before 1856. The family was Roman Catholic.

They had a son Johann, born in 1858 in Slivnica, house #12, near Maribor, in what was at the time part of the Austrian Empire, transformed into Yugoslavia, and is now considered part of Slovenia.

Theresia Vehovsky Vehovar died when her son Johann was only four years old, in 1862, of inflammation. Her origins are unknown.

Andreas Vehovar remarried to Anna Šuta. Andreas and Anna moved from Slivnica to Fram. They resided at house #67 in Fram, where Andreas died in 1899. He was buried in the family tomb in Slivnica.

Johann Vehovar was a landowner. Before his wedding with Antonia Rath/Rott, he lived in Slivnica, house number 12. After the wedding, he moved near to his wife's estate and lived there with her in Pekre, house number 7.

Johann Vehovar married Antonia Rath/Rott on November 12, 1884 in Limbuš, a small village near Maribor. They had children Antonia Johanna (born 1885), Kristina (born 1888) and Josefa (born 1893). Antonia also gave birth to twins in 1887 (a boy and a girl), but they died during labor. Antonia passed away in 1893 in Limbuš due to pneumonia. Johann Vehovar died in Limbuš in 1927 of asthma.

Photos of the family are available OnLine.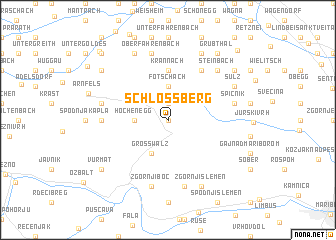 Locations of the family. From Schlossberg, look south and east and you'll see the towns where the family resided.



SLIVNICA, SLOVENIA

There are numerous Slivnicas in Slovenia. Located in the Podravska district near Maribor, the Slivnica where my ancestors lived has a current population of 460 people. It is referred to as Hoče-Slivnica.

FRAM, SLOVENIA

Fram is a village in the municipality of Rače-Fram in northeastern Slovenia. It lies in the eastern foothills of the Pohorje range to the south of Maribor. The area is part of the traditional region of Lower Styria. The municipality is now included in the Drava statistical region. The parish church in the settlement is dedicated to Saint Anne and belongs to the Roman Catholic Archdiocese of Maribor. It was built in 1875 in a Neo-Romanesque style on the site of a chapel belonging to a 13th-century castle that stood to the west of the settlement. The castle was destroyed in a fire in the late 18th century and only ruins are visible today. The current population of the village is 791.

LIMBUŠ, SLOVENIA






Limbuš is a village on the right bank of the Drava River west of Maribor in northeastern Slovenia. The local parish church is dedicated to Saint James and belongs to the Roman Catholic Archdiocese of Maribor. It has a Gothic nave dating to the 15th century, a 16th-century belfry, 17th-century chapels, and a sanctuary with 17th- and 18th-century internal furnishings. There is a walled cemetery around the church. The current village population is 2,552.

PEKRE, SLOVENIA






Pekre is a settlement southwest of Maribor in northeastern Slovenia. The major local landmark is the church on top of a small hill to the east of the main settlement. It is dedicated to Our Lady of the Seven Sorrows and was built as a pilgrimage church between 1832 and 1835. There are also four small chapel-shrines along the road leading up to the church. The current village population is 2,100.

MIGRATION FROM SLOVENIA TO AUSTRIA

Great-great-grandmother Antonia Vehovar (daughter of Johann Vehovar and Antonia Rath) married Alois Strablegg in Graz, Austria in May, 1905.

It is unknown why Antonia went north to Graz, but oral tradition suggests she may have attended a cooking school in Graz -- her reason for location. Strablegg was a butcher who was an assistant at a shop on Kalvarian Strasse (Street) in Graz. The family resided on Eggenberger Strasse (Street) in Graz.

The family was pre-disposed to having twins and to diabetes. Alois Strablegg died in 1909 at the mental institution Feldhof in Graz.

Antonia remarried to Joseph Marsel, who adopted and fathered all of the living children. Marsel was a coffee house owner living in Graz, originally from Wolfsberg.

MIGRATION TO AMERICA

In February, 1911, the Marsel clan, including wife Antonia, husband Joseph, and children Antonia and Alois (Louie), traveled from Havre, France to the port of New York on the ship La Lorraine. Antonia Vehovar Strablegg Marsel was pregnant while on the ship. The ship arrived March 5, 1911. The Marsel clan went from New York City to Milwaukee, Wisconsin due to other families they knew in the Milwaukee area.

Alois (Louie) Marsel, son of Antonia and step-son of Joseph, was sent back to visit relatives. He stayed in Lichendorf, Austria.

In Milwaukee, Joseph and Antonia Marsel owned and operated several taverns. Mr. Marsel became a naturalized U.S. citizen on Sept. 19, 1916. The witnesses to his naturalization were Martin Segadin and Martin Karmarich (Milwaukee County Records, petition 5817, volume 30, p. 17).

After Joseph Marsel died in 1926, Antonia continued the tavern operation.

The main tavern, "Joe's Tavern", was located on the corner of 33rd and Center Streets in Milwaukee. Great-great-grandma lived on the 2nd floor of the tavern-house. Great-grandma Antonia (Strablegg Marsel) Hirschboeck and her husband Joe Hirschboeck operated the tavern with great-great-grandma. The business was sold to great-grand-aunt Emmaline (Emmy) Marsel Farnham Kutnar around 1945.

In the 1940 census, Antonia Marsel is listed as living at 3050 W. Fond du Lac Ave. in Milwaukee. She was operating a Boarding House where tenants would stay. Fourteen men are listed as boarders in the 1940 census. The structure no longer is present at the location. Antonia's daughter and son-in-law lived approximately 2 blocks south and one block west in 1940. The Fond du Lac Ave. location of the boarding house was at the intersection of Locust and Fond du Lac in the central city of Milwaukee.

Great-great-grandma Antonia Marsel (Strablegg) was said to be extremely kindhearted and took in destitute individuals for little money at the tavern and boarding house. Both Antonia and her second husband Josef Marsel are buried at Holy Cross Cemetery in Milwaukee, Wisconsin.



Antonia Vehovar with her second husband, Joseph Marsel.
Joe's Tavern, 33rd and Center in Milwaukee, Wis.
Antonia Vehovar's daughter, Antonia, with her husband, Joe Hirschboeck.
Antonia Vehovar's daughter, Antonia, with her daughter
Vivian (Hirschboeck) Kolb, granddaughter Colleen (Kolb)
Twitchell, and great-granddaughter Katie Twitchell (baby).


The Vidic family, our cousins in Slovenia.



SURNAME ORIGINS

It is unclear where the surname Vehovar originates or what it means.

Names like Vehovsky, with "sky", are preceded by a name of a town or a profession. "Sky" could have Bulgarian, Czech, Russian, or Slovak origins. The family may have originated in a place called Vehov.

The surname Rath is a descriptive epithet for a wise person or counselor, from the Middle High German rat, or 'counsel' or 'advice'. It also means to 'stock' or 'supply'.




If you see any connections in the below, please contact me.



(Special thanks to Renata Medved and cousin Marko Vidic
in Slovenia for their help in compiling the above information.)



Surnames of those in my direct ancestral line appear in BOLD.






Descendants of Andreas Vehovar


1 Andreas Vehovar b: 1822 in Europe d: Oct. 26, 1899 in Fram, Slovenia
..+ Theresia Vehovsky b: Abt. 1835 in Europe d: Sept. 30, 1862 in Slivnica, Slovenia
...... 2 Andreas Vehovar b: Sept. 28, 1856 in Slivnica d: April 4, 1857 in Slivnica, Slovenia
...... 2 Johann Baptist Vehovar b: June 21, 1858 in Slivnica d: Dec. 19, 1927 in Limbus, Slovenia
.........+ Antonia Rath b: April 9, 1849 in Pekre, Slovenia m: Nov. 12, 1884 in Limbus, Slovenia d: May 3, 1893 in Limbus, Slovenia
................ 3 Antonia Johanna Vehovar b: Nov. 25, 1885 in Pekre, Slovenia m: 1904 in Graz, Austria d: June 25, 1956 in Milwaukee, WI
..................... + Alois Strablegg b: June 21, 1868 in Leutschach, Austria d: Aug. 12, 1909 in Graz, Austria
............................... 4 Antonia Strablegg b: May 07, 1905 in Graz, Austria d: July 10, 2001 in Milwaukee, WI
................................... + Joseph John Hirschboeck b: July 12, 1901 in Milwaukee, WI m: Dec. 22, 1923 in WI d: Nov. 13, 1964 in Milwaukee, WI
............................................. 5 Arleen Marie Hirschboeck b: May 3, 1924 in Milwaukee, WI d: Jan. 26, 2012 in West Bend, WI
................................................ + Jannes Henry Teller b: private
............................................. 5 Vivian Hirschboeck b: private
................................................ + Russell Kolb b: May 19, 1925 in Milwaukee, WI d: Aug. 10, 2009 in Brookfield, WI
............................... 4 Edward Strablegg b: April 1906 in Graz, Austria d: Bef. 1910 in Graz, Austria
............................... 4 (unknown) Strablegg b: 1907 in Graz, Austria d: Bef. 1910 in Graz, Austria
............................... 4 (unknown) Strablegg b: 1908 in Graz, Austria d: Bef. 1910 in Graz, Austria
............................... 4 Alois "Louie" Marsel b: March 30, 1909 in Graz, Austria d: April 1975 in Pewaukee, WI
................................... + Ann T. Vogel b: unknown d: 2002 in Pewaukee, Wisconsin
............................................. 5 Thomas "Tommy" Marsel b: private
............................................. 5 Richard Marsel b: private
............................................. 5 Sandra Marsel b: private
.................... *2nd Husband of Antonia Vehovar Strablegg:
..................... + Joseph Marsel b: Feb. 21, 1887 in Wolfsberg, Austria m: 1911 in Graz, Austria
........................ d: June 10, 1926 in Milwaukee, Wisconsin
............................... 4 Gisela Marsel b: Oct. 19, 1911 in WI d: Sept. 10, 1916 in WI
............................... 4 Angela Marsel b: Sept. 21, 1916 in Milwaukee, WI d: Sept., 1916 in WI
............................... 4 Emmaline "Emmy" Marsel b: private
................................... + George Farnham b: private
............................................. 5 Linda Kutnar b: May 8, 1947 in Milwaukee, WI d: March 27, 2011 in Milwaukee, WI
................................................ + James Liban b: private
....................................................... 6 Matthew Liban b: private
............................................. 5 Georgia Kutnar b: private
................................................ + James Sutter b: private
....................................................... 6 Shannon Sutter b: private
....................................................... 6 Jason Sutter b: private
.................................. *2nd Husband of Emmaline Marsel:
................................... + Matthew Kutnar b: July 19, 1916 in Milwaukee, WI d: Dec. 8, 2005 in Milwaukee, WI
................ 3 Kristina Vehovar b: April 9, 1888 in Pekre, Slovenia d: Aft. 1910 in Slovenia
..................... + Jozef Vidic b: in Slovenia d: in Slovenia
............................... 4 Anzonia Vidic b: in Slovenia d: in Slovenia
............................... 4 Rihard Vidic b: in Slovenia d: in Slovenia
............................... 4 Joze Vidic b: 1909/1910 in Maribor, Slovenia d: Bef. 2000 in Slovenia
............................................. 5 Sonja Vidic b: private
............................................. 5 Tjasa Vidic b: private
............................................. 5 Joze Vidic b: private
................................................ + Nina Vidic b: private
....................................................... 6 Marko Vidic b: private
................ 3 Josefa "Josephine" Vehovar b: March 9, 1893 in Pekre, Slovenia d: 1929 in Milwaukee, WI
..................... + Antun Salatnik b: Abt. 1885 in the former Yugoslavia d: unknown
--
Notes on Antun and Josephine Salatnik:
.............Immigrated on May 21, 1921 via Trieste, Italy to Baltimore on the ship the Argentina. Antun is listed as a laborer. All have their nationality listed as Yugoslavia, but their "race or people" listed as Slovenian. Their last permanent residence in Europe was at Sesterze.
--
............................... 4 Rosalja E. "Rose" Salatnik b: Aug. 9, 1915 in Graz, Austria d: May 13, 2007 in WI
................................... + William W. Krieger b: March 16, 1912 in Milwaukee, WI d: Nov. 22, 1988 in WI
............................................. 5 William Krieger b: private
............................................. 5 Cynthia Krieger b: private
................................................ + (unknown) Sturm b: private
............................................. 5 Mary Ellen Krieger b: private
................................................ + Andrew Mazak b: private
.........*2nd Wife of Johann Vehovar:
.........+ Anna Šuta b: unknown d: 1895 in Pekre, Slovenia